By Retailers, For Retailers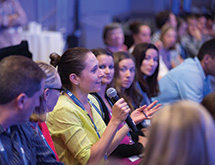 Organized By Worldwide Business Research, eTail West will take place next February 22-25 at the JW Marriott Desert Springs Resort & Spa in Palm Springs, Calif. With 2,500 attendees and more than 220 exhibitors expected, eTail West is a show created by retailers, for retailers.
eTail West is the one-stop shop for ecommerce and multi-channel executives. It is an event where inspiration meets socializing, an incubator for innovation and relationships that last far beyond the conference, all taking place in beautiful, sunny Palm Springs.
Topics covered at the show span from the latest innovations, engagement, personalization, the customer journey and online marketing to analytics, mobile, social, email, search, usability and more. If you have a pain point, eTail West has definitely got you covered. You'll learn about the future of retail from those who are shaping it.
At the show, you'll be able to mix and mingle like there's no tomorrow. When you think of getting together and idea sharing, think of eTail West first. Take part in retailer chats, "speed dating," interactive working groups, free advice and consults, brainstorming and much more. With more than a days worth of retailer-to-retailer networking, you'll come for the inspiration, but stay for the fun.
The show will also feature the participation of a number of industry leaders, including Adam Goldenberg (founder and CEO, JustFab), Stormy Simon (president, Overstock.com), Eoin Comerford (CEO, Moosejaw) and many more. Other highlights of the show will include prizes and giveaways every day of the conference. Everyone loves free stuff, especially when it's cool. And eTail loves to give it away. Head into the exhibit hall to check out the latest retail technologies and play a few Xbox games. You can win cash and other amazing prizes like Google glasses, Apple watches, even an all-expense paid vacation. You'll have the chance to win something fantastic on every break on February 23rd and 24th.
eTail West also includes what it calls infamous evening receptions. Every night, it will have mixologists on tap for these legendary evening receptions. Taste some wine, have great food and check out snake charmers, gymnasts, live music, break dancing acts and a lot more. There will be some surprise entertainers, so make sure you get there early. These are the perfect moments to get involved in some informal networking, fun and laughter. Receptions are held on the evenings of February 23rd and 24th.
Also, eTail West features an exhibit hall that does more than exhibit. Socialize while you find solutions. Mix it up with other retailers at the social lounges, located only in the exhibit hall. Enjoy retailer-only networking, Xbox games and much more. There will also be specialty cocktails and food, and you could probably spend the entire day lounging and networking.
Then there is the official eTail mobile app. It is the best way to stay connected leading up to and during the event. You'll start socializing and mingling before you get to Palm Springs. Check out the agenda on the go, set up meetings, read up on the speakers and set reminders for your must attend sessions. It is the entire conference at your fingertips.
Visit etailwest.wbresearch.com for more on eTail West, and don't forget to put eTail East on your calendar for August 15-18, 2016 at the Sheraton Boston Hotel in Boston.