Campari Unveils 2014 calendar starring Uma Thurman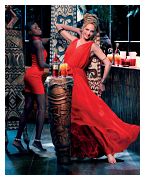 November 11, 2013 – Campari is officially unveiling the full imagery for the 2014 Calendar which is entitled 'Worldwide Celebrations'. The Calendar is the 15th edition in the prestigious collection and stars Hollywood actress Uma Thurman enjoying 12 intriguing and vibrant festivals from around the world.
From Spring Festival in Beijing, the biggest celebration in China, to Hanami in Japan, where people enjoy the beautiful cherry blossoms of spring, the 2014 Calendar provides a window on the world and invites fans of Campari to embark on a global voyage of discovery. The celebrations in the Calendar span every continent and also include Midsummer's Eve in England, during which revellers celebrate the Summer Solstice at the historic Stonehenge, and the bright and exhilarating Reveillon in Brazil, the biggest New Year Celebration in the world.
"The 2014 calendar is a stunning piece of artwork which perfectly conveys the positive energy and pleasure which Campari lovers around the world can enjoy through our worldwide celebration," Thurman says. "There is nothing more enjoyable than a celebration and I feel confident that people around the world will enjoy the worldwide celebration which the Campari calendar provides."
The 15th edition of the Campari Calendar was shot by noted fashion photographer, Koto Bolofo, renowned for his lively and dynamic imagery. Bolofo was born in South Africa, raised in the UK and now resides in France so is a true world citizen himself and the perfect choice to convey the calendar's worldwide celebration.
"For me, the Campari Calendar is all about pleasure, intrigue and charisma and I feel confident the 2014 edition embodies all of these qualities," Bolofo says. "Working with Uma has been a joy and I am truly thrilled that the Campari Calendar 2014 can be revealed to the world and enjoyed by all. "
"The Campari Calendar 2014 is dedicated to the pleasure that can be enjoyed from travel and discove around the world," says Bob Kunze-Concewitz, CEO of Gruppo Campari. "Uma' s passion and style shine through in each and every shot , and she embodies every celebration to provide stunning visuals. "
The Calendar theme, Worldwide Celebrations, was created by BCube Milan. Working side by side with the photographer Koto Bolofo on the project were Andrea Marzagalli, senior art director and Bruno Vohwinkel, senior copywriter.