Caribou Coffee Celebrates Its 20th Anniversary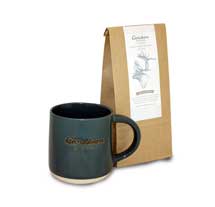 Dec. 10, 2012 – Caribou Coffee Company, Inc. announced that it will officially celebrate its 20th anniversary later this week, marking two decades of roasting coffee and offering meeting places for guests. Caribou's 20th anniversary, which will take place on Dec. 14, 2012, caps off an exciting year for the company, which is known for its handcrafted beverages, innovative menu, and cozy coffeehouses.
Brooklyn Center, Minn.-based Caribou Coffee was founded by Kim and John Puckett in 1992. While the first Caribou coffeehouse – located at 44th and France in Minneapolis – is still welcoming customers today, the company has since grown to more than 600 locations in 22 states, the District of Columbia, and 10 international markets.
Caribou increased its domestic and international footprint in 2012, opening 56 new locations with 6 more to come yet this year and celebrating its 100th international operating location this May. Additionally, the coffeehouse was recently ranked Top Overall chain among quick refreshment brands in Zagat's Fast-Food Survey, as voted on by consumers.
"Twenty years ago, Caribou Coffee was inspired by a long climb to the summit of the Denali range," Caribou Coffee founders Kim and John Puckett said, "We wanted to do something special with our lives and realized this dream through Caribou Coffee: a place where people can enjoy a great cup of coffee in the company of good friends. We are touched that 20 years later, Caribou has become a part of the lives of so many people across this country and internationally."
In celebration of this milestone, Caribou introduced a special 20th Anniversary Blend coffee on Nov. 25, 2012, which features the original Caribou Blend recipe. Caribou's Anniversary Blend, commemorative ceramic mug and stainless steel tumbler will be available for purchase in stores and online through January. These limited-edition anniversary items are available alongside Caribou's expanded holiday menu, which features new, seasonal drinks made with real caramel – the Salted Caramel Budino and Salted Caramel Mocha – and a festive retail collection for guests to "gift" to their loved ones this season.
Additionally, the brand is in the midst of thanking its loyal fans with a 20-day anniversary celebration. On Nov. 25, Caribou launched its "20 Feel Good Years" program, offering 20 deals for 20 days. Throughout the campaign, fans who text BOU20 to 65017* or "like" Caribou's Facebook page are alerted of daily deals. Offers include discounts on a range of Caribou's best-in-class beverages and beans, delicious food items and branded merchandise. The promotion will officially conclude on Caribou's anniversary, Dec. 14, 2012.
"With our 20th anniversary, this holiday season is a particularly important one for all of us at Caribou, and for our fans," said Mike Tattersfield, president and CEO of Caribou Coffee. "We couldn't be more thrilled to celebrate with customers and Caribou team members throughout the country with our "20 Feel Good Years" program, and we look forward to continuing to grow, and to offer the Caribou experience in 2013 and for years to come."