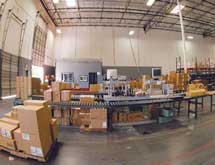 This logistics outsourcing company uses a collaborative approach and a proprietary technological platform to bring efficiency to its customers. Although CaseStack started its logistics operations in 1999 without a legacy system to get it going, according to CEO Dan Sanker, building from scratch was the best way to begin. CaseStack is a logistics outsourcing company that works with middle-market CPG companies that sell product to retailers such as Walmart, Target, Costco, and Walgreens. CaseStack handles its clients' transportation and warehousing, but, more importantly, it's built a technology platform that gives its clients 100% visibility and reporting for the products CaseStack handles.
Currently, the company has warehouses in Los Angeles and Portland, Ore. on the West Coast; Dallas, Chicago, and Toronto in the middle of the country; and Atlanta and Scranton, Pa., on the East Coast. Because of its wide reach and its extensive client portfolio of approximately 1,000 CPG companies, CaseStack has made a name for itself based on its ability to tailor its services to its clients' needs.
"We work with the retailers to come up with collaborative programs," said Sanker. "Retailers typically order what they need after their systems tell them. Our technology adds a step that helps them figure out how to make a consolidated order that includes products from all of the manufacturers we have in our buildings to make a perfect truckload."
Commodity and transportation
Throughout 2010, CaseStack grew 20%. This year, Sanker expects the company to grow by at least 30%. Sanker said although no one likes to think of the recession as positive, for his company, it did more to help than harm. "Prior to the recession, companies looked at what we do and only thought about making a change," he said. "It's like when you watch a Geico commercial and consider spending the 15 minutes to save the 15%, but you really don't feel like dealing with it."
Sanker said the same thing happens with companies. "They say the service levels they receive from their current less-than-truckload providers are okay, no one is complaining too much, the pricing is a little high, but they don't want to deal with it."
The recession changed that mentality, and a lot of companies called CaseStack to find out exactly where the 40% cost savings and 20% time savings came from. Many had heard those figures before, but unlike other companies, CaseStack promises those results day after day. "There might not always be 40% cost savings, but there will always be at least a 20% improvement on time, depending on where your product is and what it is," said Sanker.
What makes CaseStack unique is its all-in-one approach, which relies on its technological acumen. Typically, the industry is broken down into three parts: logistics companies (often called third-party logistics) handle the warehousing, another company handles the transportation, and a third company handles the technological aspects. But as CPG companies continue to grow, dealing with a growing number of vendors becomes tiresome and inefficient.
And with data coming in from numerous retailers, each with its own data set and compliance guidelines, having a company like CaseStack in their back pockets takes the weight off CPG companies' shoulders.
"When we started in 1999, we weren't a warehousing or technology company, and we weren't a trucking company," said Sanker. "When we built CaseStack, it was with the intention of being a full logistics outsourcing company that knew where all of its parts would be."
And with a firm grasp on which CPG companies it would target, collaborating with retailers was a natural evolution of the company's business structure. "We knew we wanted to work closely with the largest retailers so we could figure out how to take macro costs out of the system," Sanker said.
"You have to go looking for lower prices every year, but it's not really a novel approach," he continued. "You won't get 20% savings by negotiating anymore. Transportation is a commodity; you need to collaborate to remove macro systemic costs."
Full capacity
CaseStack built its technological platform to interact with warehouses, trucking companies, retailers, and CPG manufacturers and buyers. During the past 11 years, the platform has helped the company build lines of communications with retailers to ensure no less-than-truckload shipments are sent out.
"We trim down orders to a truckload or add to them and make it two truckloads rather than shipping partial," said Sanker. He compared shipping less-than-truckloads to traveling across country on a plane: there's a reason everyone wants a direct flight. Translate the exhaustion of a multi-stop flight into damaged merchandise, delays, and the cost of wasted mileage, and it's easy to see why retailers and CPG companies prefer full truckload shipments.
The real cost savings, however, come from cutting out empty truck miles and cutting back on fuel usage. And because CaseStack outsources its transportation needs, clients don't pay for the lack of or excess capacity that comes from an up and down economy. "Our technology uses an algorithm-based transportation optimization system that looks at all 600 of our carrier partners and figures out which will get the merchandise to their locations on time and at the lowest cost," said Sanker.
Over time, CaseStack added elements to its system, including which companies operate with sustainability in mind, which are 100% on time, and which are the most consistent. After adding the green carrier matrix into the system, CaseStack decided to open up its second primary office in Northwest Arkansas, Walmart's backyard, which has become known as the Green Valley for many sustainability-oriented companies.
"For clients that have a passion for sustainable business practices, the system can pick out the carriers that do it all," Sanker said. "Whether it's the aerodynamics of trucks, auxiliary power units, SmartWay certification, or biodiesel fuel substitution, we analyze whether a carrier's sustainability platform makes sense on a state-by-state and month-by-month basis, and we pass that knowledge onto our customers."
International innovation
Approximately 85% of CaseStack's business is domestic, which Sanker believes means the company is neglecting international opportunities. So this year the company is spending time in Europe and China to develop relationships and retailer-focused programs.
"I'm working with experts in the CPG community on a Taste of the World program in Arkansas for Walmart and other major retailers, and we're trying to get some products back on the shelves in the US," Sanker said. "We will then provide the logistics services. It works both ways; we'll also be helping US companies see opportunities abroad."
CaseStack plans to leverage its preexisting systems using the same logic it already uses. For example, it can consolidate containers at European ports, bring products into the US warehouse network, and further consolidate truckloads out to US retailers. By delivering the goods from far away for 20% to 40% less, entire markets can open up that would have otherwise been closed. That will ultimately help retailers differentiate themselves with better selection, and it gives people around the world the opportunity to try food and other products from around the world.
In addition, if retailers can order single cases of products that still arrive efficiently by combining into full multi-supplier truckloads, there are many benefits. The retailers don't have to deal with order minimums, meaning lower costs and fresher products. A best selling cookie like an Oreo goes out full truckload anyway, but for a small biscotti brand or artisanal Swiss chocolate line, it's often a different story, Sanker said.
"We're offering efficiency at a low price, with a fast turnaround, and with fresh products, and that's how the logistics industry should work," he said. "Unfortunately, it hasn't traditionally been like that, but that's where we shine."