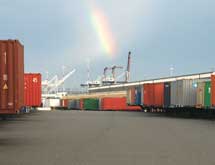 With strong IT capabilities, a perfect locale, and a collaborative approach to working with its clients, this logistics company sets itself apart. From the technology it uses and the collaborative approach it takes when working with its clients to its location within the Port of Oakland, GSC Logistics differentiates itself from most in the transportation and logistics industry. But before getting into the details, perhaps what speaks best for GSC is the percentage of imports the company handles at the Port of Oakland: 15%.
That 15% translates to approximately 150,000 containers per year, placing GSC as the dominant logistics provider at the port. With so much traffic going through its deconsolidation facility, it's no wonder owners Scott Taylor and Andy Garcia feel where GSC is located is as important as what it does.
"Our deconsolidation facility at the Port of Oakland is unique because it's situated inside the port," said Garcia, chairman and EVP. "As a result, we can offer our customers extremely competitive freight rates."
GSC is located within a mile and a half of the port's terminals, which means it can also process the inbound import products that arrive in ocean containers faster than most. Garcia said one of the issues affecting other deconsolidators throughout the nation is the distance between the port and the deconsolidation facility.
"Most deconsolidators can take one or two containers from the port to a deconsolidation facility over an eight-hour or 10-hour shift," he said. "We can handle anywhere from four to seven containers over an eight-hour or nine-hour shift because we are so close."
In position
Both Garcia and Taylor, who is president and CEO of GSC, believe the company's IT sophistication can best be defined by the clientele it serves. Its customers include Target, Walgreens, Hewlett Packard, JC Penney, Medline Industries, Restoration Hardware, and Crate & Barrel, each of which requires cutting edge information technology.
"Every year we dedicate a tremendous amount of monetary, personnel, and IT resources to meet their criteria and stay alongside, if not slightly ahead of, our customers," said Taylor. "One of our key vendors that helps us achieve those goals is Trinium Technologies."
Trinium offers software solutions for intermodal trucking, dispatch, drayage, cartage, CFS, warehousing, and marine terminal operations. GSC has invested and installed sophisticated modules from Trinium, including MobileComm, Weblink, and Availability Manager, which enables GSC to speed the flow of information through its entire process, from its customers to its deconsolidation facility to its drivers and back to its customers.
So when crossdocking merchandise for any of its larger retailers, which bring in merchandise from around the world, GSC can bring in the ocean container, pick it up at a terminal, bring it to its deconsolidation facility, and sort and segregate the merchandise immediately into outbound waiting intermodal trailers to various distribution centers around the US.
"Years ago, when we were in the public warehousing business, merchandise used to wait on our floor for 30, 60, or even 90 days until a customer ordered it," said Taylor. "With the sophistication we have now, merchandise is on our floor for somewhere between 30 and 60 minutes."
Merchandise is immediately loaded into outbound trailers and taken to a railhead, put on a train, and sent across the country. "Customers have complete visibility of this merchandise the entire time," said Taylor.
GSC's transloading capabilities involve taking the merchandise out of an ocean container and deconsolidating it directly into an intermodal trailer. However, transloading traffic builds up quickly, especially for retailers that operate 30 distribution centers or more. And the use of technology speeds up the process while assuring inventory management accuracy and visibility.
"If we have 100 different items on an inbound container going to 27 different distribution centers, we're putting together 2,700 orders," said Taylor. "But we still achieve the metrics jointly defined by our customers and our operations team."
Power to the people
Although technology plays an important role in GSC's business, Taylor said there is no one technology the company can hang its hat on. "It's a combination of location, technology, and our people," he said.
To start, both Taylor and Garcia have been in the industry since the late 1980s and brought to GSC experience in public warehousing, transportation, and imports/exports. Most of the company's management team has been with the company for at least 12 of the 23 years it's been in business, and the majority of its members have been involved in logistics, distribution, and warehousing.
Garcia said this collective experience helps keep the processes GSC handles running at optimum speed. More importantly, the management team supports the staff members at the deconsolidation facility who are busy preparing for shipments long before they arrive.
"Our staff at the deconsolidation facility looks at the information provided for each container and evaluates how many cases will arrive, how many different items will arrive, and the destinations for the cases in that container," Garcia said.
The team also does extensive planning as to where to position the container when it gets to GSC's facility and how long it will take to offload the container based on the total number of cases, the complexity of the different items inside the container, and how many distribution centers will be part of the shipping process.
In addition, GSC estimates the amount of labor required and the number of deconsolidation facility truck doors needed for the outbound merchandise once it's been sorted. These analytics are critical, said Garcia. "Knowing all of these details enables us to process those orders fluidly through our deconsolidation facility."
Environmental efficiency
In addition to being efficient for its customers, GSC focuses on being efficient for the environment. It works with 180 independent owner/operators, and its entire truck fleet is CARB (California Air Resources Board) compliant. CARB's emissions mandates are among the most stringent requirements on emissions in the industry. With the help of its major customers, GSC instituted TAP (Truck Assistance Program) in an effort to financially help the independent owner/operators meet their new truck obligations.
"These regulations require newer equipment that has low emissions carbon and nitrous oxide footprints, so the equipment we use has a very small carbon footprint," said Garcia. "Oakland also has a very high asthma ratio amongst infants compared to the rest of the nation. Through these environmental controls, the ratio will drop dramatically."
Further, 99% of what GSC ships out of its deconsolidation facility travels across the country via rail. Rail transportation, relative to the amount of tonnages moved throughout the country, also has a small carbon emissions footprint.
None of these accomplishments and abilities happens without strategic planning and stringent guidelines. In fact, GSC develops an SOP jointly with each of its customers so it can implement a process that is tailor-made to how each operates.
"We are here to be the best support to our customers' operations through our everyday functions," said Garcia. "The processes we develop for our customers to achieve Zero Defects standards involve how we do our work and our understanding of how our customers' operations are set up, designed, and engineered. They allow us to harmonize with our customers' operations for every service or function we perform."