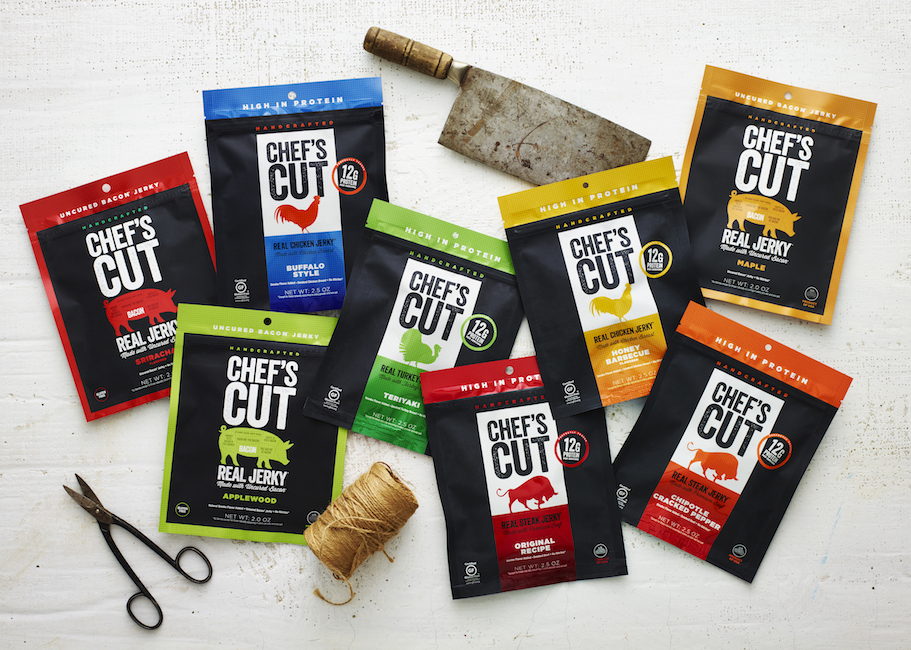 Chef's Cut Real Jerky is disrupting the competitive beef jerky market with healthier, better-tasting products.
By Jim Harris
Chef's Cut Real Jerky Co. wants to change the public perception of beef jerky, one bite at a time. "We are in a very old, competitive category, and consumers have been trained to eat and accept jerky for what it's always been – a hard, chewy and tough product that you gnaw on versus something you eat," says Bart Silvestro, CEO of the New York City-based company. "Our product is tender and a different kind of eating experience – it's like eating steak in a bag."
For the past few years, Chef's Cut Real Jerky has offered samples of its products at various events and in retail stores. "Being a disrupter in the market and changing perceptions of what you are starts with offering trials," Silvestro says. "People always think of beef jerky as being a cheap convenience store snack eaten by a hunter or a truck driver. We are changing that. We want people to know that our product can be eaten as a meal replacement, or as a healthy snack between meals."
Chef's Cut Real Jerky products are high in protein, use all-natural ingredients and are nitrate-, MSG- and gluten-free. The meats used to make the jerky are prepared fresh, marinated and slow cooked. "Our products have healthier attributes than the majority of our competitors'," Silvestro says. "Everything we do is different – most other companies use beef that is imported frozen that they inject with a marinade or solution to give it flavor, we do it the way you would at home."

Chef's Cut Real Jerky is available in several meats including steak, chicken, pork and bacon and in various flavors. The company's newest products include a protein pack that combines jerky with dehydrated cheese in a single package, a meat bar and a beef stick. Chef's Cut Real Jerky products are sold nationally in major retailers including Costco.
Spreading the Word
The homemade nature of Chef's Cut Real Jerky has its roots in the kitchen of Blair Swiler (pictured below), one of the company's founders. A veteran executive chef, Swiler often made beef jerky at home for his family and friends. One day, he brought some jerky with him while he worked at Calusa Pines Golf Course in Naples, Fla., where he met co-worker and fellow avid golfer Dennis Riedel. "When [Swiler] brought it to the course, everyone raved about it, and [Riedel] was the biggest fan," Silvestro says.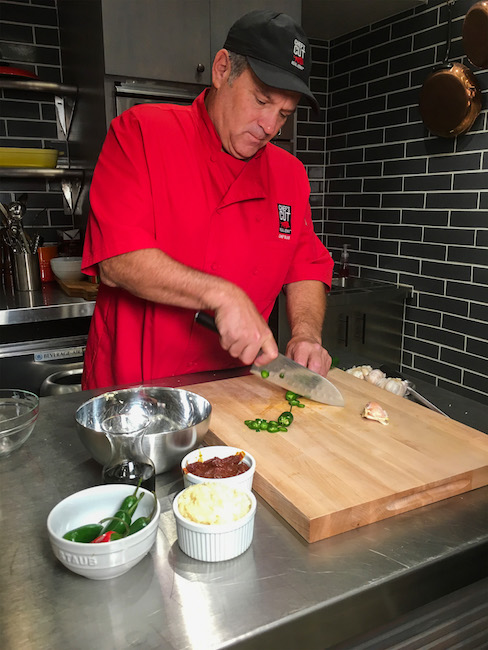 Over time, Riedel began to see potential in Swiler's creation. The following year, while working at Bayonne Golf Course in New Jersey, Riedel asked Swiler to share his recipe so he could share it on his new course. After initially saying no to the request, Swiler relented, and the golfers who tried the jerky in Bayonne had the same reaction as those at Calusa Pines. "Everyone went crazy for it, so [Swiler and Riedel] decided to do something with it, made the jerky and see far it could go," he adds.
In 2009, Riedel and Swiler began making beef jerky in Bayonne Golf Course's kitchen, put it in plastic bags and sold it in the course's snack shop. Word quickly spread through other golf courses, and the jerky eventually made its way into the hands of businessman, investor and "Shark Tank" guest panelist Rohan Oza. While playing a round of golf at Bayonne Golf Course, Oza asked a snack shop employee where he could find more of the jerky. The employee introduced Oza to Riedel, and the founders soon took Oza on as their partner.
With Oza's marketing and branding experience behind it, the company in 2013 refreshed its packaging and began its national push. Silvestro, a 25-year veteran of the food and beverage consumer packaged goods industry, was tapped to lead the company's expansion in December 2014. Previously, he was the executive vice president of operations and sales for Popcorn Indiana.
'Living the Brand'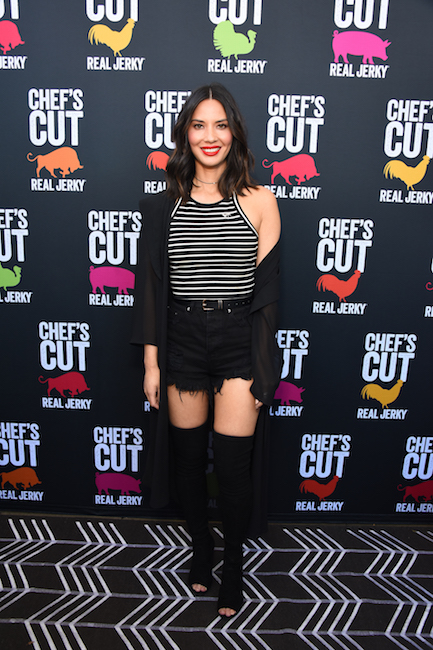 The company continues to get the word out about its products through sampling events and other promotions. Chef's Cut Real Jerky also has a number of celebrity and professional athlete partners – including actress Olivia Munn (pictured at left), Denver Broncos linebacker Von Miller and pro golfer Kyle Reifers – who champion the brand. "Our celebrity partners are not paid endorsers – they live the brand, eat the brand and come to us asking to be investors," Silvestro says.
Chef's Cut Real Jerky's executives more than share the external enthusiasm for its products. "We have the right mix of industry experience and young entrepreneurial-minded millennials who are willing to do whatever is needed to be successful," he adds. "We are a lean, roll up your sleeves and think-outside-of-the-box organization."