Chiquita Brands International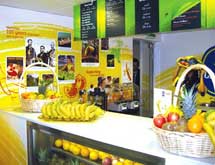 This worldwide distributor is transitioning away from being heavily weighted in the commodities market to connect with consumers through packaged goods. The vision of Chiquita Brands International is to lead the world in fresh, healthy, branded foods. The Ohio-based company started a transformative process to realize this vision five years ago when it acquired Fresh Express, one of the world's largest producers and distributors of fresh, ready-to-eat packaged salads.
Brian Kocher, president of Chiquita North America, said that five years ago the company was heavily oriented in commodity products. "We didn't have any consumer messaging in North America," he said. "We were also vertically integrated in areas we didn't have great expertise, which made us susceptible to the ups and downs of commodity markets such as fuel costs and banana prices."
When Chiquita acquired Fresh Express, it marked a turning point because it gave the company another business with which to drive growth and innovation and stabilize earnings. From there, the company changed protocols, such as implementing fuel surcharges and driving costs out of the business, to improve profitability in North America.
"We reduced our debt load overall in the Chiquita business," said Kocher. "When we improved operations, we paid down debt and then thinned out our infrastructure."
Connect the dots
Chiquita knew to fully break out of its commodity lull it had to better connect with the consumer. It started by rolling out a TV advertising platform in 2009, "consistently, deliciously fresh," making it the first consumer advertising ever in the consumer package salad industry.
It supported that campaign by launching a micro site called Your Salad Story, which leverages the company's food safety and traceability practices. Ultimately, said Kocher, Chiquita's goal is to show that not every salad is created equally.
"Fresh Express empowers consumers with a tool to learn where their salad comes from, the processes and care that's taken to deliver that salad to the market, and all of the steps we go through to make sure it's as fresh as it can possibly be," he said. "It's leveraging a system we already had in place but using it to connect with the consumer."
By using the same style guide as its consumer marketing campaign and further educating the consuming public on the steps Chiquita's Fresh Express takes to deliver freshness and delicious taste, the company gave its customers and consumers a better appreciation and trust of the Chiquita brand.
"There is a segment of consumers that is concerned about the origin of food and food products, the care and the impact that we have on the environment, and food safety initiatives," said Kocher. "This gives them a chance to see firsthand and explore firsthand the processes we use to make sure we deliver the freshest and most delicious salads we can to the market."
Importance of innovation
Innovation has become an important concept behind the branding of Chiquita, both as a way to connect with consumers and to help its direct customers.
"We want to make sure one of our advantages is a continued focus and investment in innovation," said Kocher. "The more times we're hitting consumers and the retail trade with new ideas, either product innovation or ways to extend your brand or ways to innovatively connect with consumers to help the trade, the more consumers get the feel of innovation and cutting edge for our new or fresh approaches."
The company's approach is threefold: to extend, expand, and explore new branding opportunities, one of which is its Just Fruit in a Bottle product. Launched approximately three years ago, the product is just as its name suggests: whole fruit lightly pureed and bottled with no preservatives and no added sugar.
Three years ago, Chiquita Europe launched Just Fruit in a Bottle as an initiative to leverage and expand its Chiquita brand. "Just Fruit in a Bottle extends the Chiquita brand to a new category and explores our capabilities as we enter a more traditional consumer packaged good category," said Kocher.
"We don't add preservatives or additives, so the product has a very short shelf life," he continued. "We capitalized on our strengths in logistics and transporting perishable goods to leverage that."
This year, Chiquita announced its partnership with Danone to support Just Fruit in a Bottle. The partnership gives Chiquita the opportunity launch the project faster and on a larger scale because of Danone's well-established distribution and sales networks.
Danone also fits in with Chiquita's focus on health and wellness through its dairy and water lines, probiotic yogurts, and corporate responsibility initiatives. "We were involved with corporate responsibility before it became cool to be responsible," said Kocher. "Our program was 15 years in the making, not 15 minutes. We thought philosophically the partnership was a good fit for us."
Leaving an impact
Chiquita has also launched new products such as its Healthy Snacking Pineapple Bite, a single-serve pineapple spear available at the grocery store. The other is its Fresh and Ready avocados, which use a stay-fresh technology Chiquita developed with Landec.
"Chiquita continues to roll out new products and innovate our consumer messaging," said Kocher. In addition to the Your Salad Story micro site, Chiquita has partnered with HealthCorp, a nonprofit organization that Dr. Oz developed.
"HealthCorp engages recent college graduates to communicate directly with the youth of today to drive the right habits to make sure they're living healthy lifestyles," said Kocher. "Partnering with HealthCorp and Dr. Oz fit well with our corporate goals on a number of levels."
First, Chiquita's entire focus is dominating the world in fresh, healthy, branded foods. Second, its philanthropic efforts are aligned to help children, such as its Salad Bar in Every School campaign. Third, when a company can influence children, it has the chance to impact their lives and decisions for 60 years.
"A UCLA study found that when children had the option of selecting fruits and vegetables, they selected 25% more fruits and vegetables than unhealthy snacks," said Kocher. "They take in less calories, less fat calories, have lower cholesterol. Just think about that from the perspective of having the option for fresh healthy fruits and vegetables. It's a great opportunity for us to leave an impact."