Chobani Introduces New Product Innovations For 2013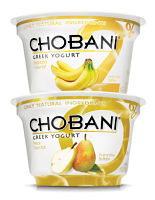 Dec. 19, 2012 – Chobani, America's No. 1 selling yogurt brand, announced several new product innovations set to hit store shelves in January 2013. Among the new products are Chobani Bite, Chobani Champions Tubes, Chobani Flip and new Pear and Banana 6oz. Chobani Flavors. Each of Chobani's 2013 products was purposefully created to bring consumers even more ways to enjoy Chobani Greek Yogurt. Each is crafted using Chobani's hallmark authentic strained Greek yogurt made with only natural ingredients.
Chobani hopes these new introductions will further revolutionize the dairy case and bolster Chobani's industry leadership in the yogurt category. This success is further marked by Chobani's opening of the world's largest yogurt plant in Twin Falls, Idaho. Built in under a year, the new plant will allow Chobani to satisfy the increasing demands of fans across the country.
"Our goal at Chobani is to continue building upon the limitless possibilities of Greek yogurt, and create innovative products specifically designed for usage occasions," said John Heath, Vice President of New Ventures and Innovation at Chobani. "Using consumer insights, we look across the pleasure spectrum – flavors, textures, taste combinations and packaging formats – to bring new excitement and enjoyment to our deliciously simple, authentic yogurt."