Knowing the Market
Clark's Pump-N-Shop has defined itself through a community-focused culture since its very beginning. John W. Clark established a vision for the business, which he shared with his children, passing along his approach to leadership. That knowledge has helped the company perform consistently throughout the years.
The company works very hard to understand its marketplaces. Its customer base is very diverse based on the location of the store. For example, some of the locations focus on meeting the needs of the on-the-go mom and school students. Other locations are nearby to industrial centers and focus on meeting the needs of blue-collar workers.
"We also have locations on the interstates taking care of travelers, as well as locations within communities that serve a wide array of customers," Rick Clark says. "At all of our locations, we take pride in setting ourselves apart from our competition by building large well-lit locations with clean restrooms, uncluttered floor plans and exceptional customer service. We constantly reinvest and adapt our store models to the popular trends that are happening daily in our industry."
Clark's Pump-N-Shop knows that its customers have busy lives and need to get in and out of its locations quickly. Although there is competition within its markets, the company believes it has become a leader in terms of offering what the customer wants.
"Customer expectations have not changed," Rick Clark says. "They want the items they purchase to be in stock, and they want our service to be quick and with a smile."
Another part of the community-focused culture is exhibited by Clark's Pump-N-Shop's support of activities in the communities where its stores are located. By getting involved in local school projects, sporting events, and other city and community events that need support, the company has demonstrated its commitment to the places it calls home.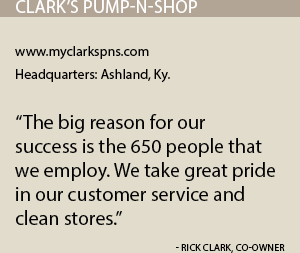 Striving to Improve
As the company builds its strategy for the future, it is careful to make sure it is investing in the right areas. Clark's Pump-N-Shop has invested in technology such as new passport registers for all locations as well as new MPD Pumps at most sites.
"We have also invested in our backroom software," Rick Clark says. "We have kept up with the times as far as technology goes."
This includes investing in a mobile app through Gas Buddy. This allows Clark's Pump-N-Shop to send weekly specials to those customers who have downloaded the Clark's app.
"Our customers can also find our gas prices on the app," Rick Clark says. "The wave of the future will be the mobile app, as young people use their mobile phones for everything."
Other investments have focused on traditional brick and mortar assets. In the last five years, the company has razed and rebuilt many of its stores.
"The new stores are bigger with much more retail space, which has translated into higher inside sales," Rick Clark says. "At some of the stores we added a drive-thru as a convenience for our customers. This concept has been very successful."
In addition to investments, Clark's Pump-N-Shop ensures its success by staying on top of the way the industry is changing. Cigarette sales have declined nationally, and the company has reinvested in the checkout areas of its stores with new tobacco fixtures and adding the drive-thru windows, which is a big advantage because most of its competition has yet to make that move.
Foodservice is also becoming a main focus within its stores, along with fountain beverages and coffee is also a main focus. Other changes and challenges include higher wages, increased insurance costs and more environmental concerns.
"Labor quality is a big challenge, as we are trying to maintain margins along with service and quality to keep our customers returning," Rick Clark says. "Shrinking gas margins also mean that the inside store margin becomes a higher priority. That is why the food and fountain area is key."
Clark's Pump-N-Shop's main priority is to keep its eyes on the customers so it can continue to meet their needs. It plans to continue advertising in its market areas so it can continue to build Clark's brand awareness. And it also plans to stay ahead of the competition through continued investment in technology and expansion of its store count.
"We must look for opportunities to grow and expand," Rick Clark says. "The key to growth is reinvesting in our business, building new locations as well as remodeling existing locations to give them the needed size to meet our customers' needs."