"All we do is licensed products at this point – we no longer manufacture," President and CEO Lisa Frank says. "We have all kinds of products, activity sets, cosmetics, shoes, bedding, clothing, electronics, a lot of different publishing properties, puzzles and coloring books – pretty much the gamut of products." Lisa Frank Inc.'s licensed products are sold in mass-market retailers, department stores and retail clubs.
The use of electronics in education has changed some of Lisa Frank's products. "The school supplies market is not of the same magnitude as it was 30 years ago, but it's still a very viable market," Frank declares. "Activities today are bigger than they were 20 or 30 years ago and there are plenty of other product categories that are making up for the categories that aren't as strong."
Lisa Frank doesn't worry about following the latest trends. "We don't follow the trends – we set the trends," she emphasizes. "That's what we're known for." But that does not mean that her characters have not evolved with the times.
"A lot of the characters are 20 to 30 years old, and they definitely have evolved," Frank concedes. "We're always designing new characters, but the color palette and the look of Lisa Frank hasn't really changed. We've gotten a little more intricate, and I like it better today."
Frank is wary of changing characters so much that they lose their appeal to their audience. "Our fans love Lisa Frank the way it is," Frank insists. "You have to be careful if you have a fan base that's in love with your look not to change it too much. I think we're just improving on it."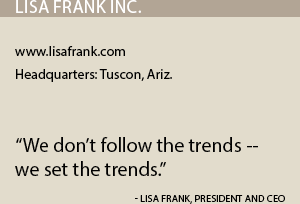 Licensed Products
Lisa Frank Inc. has new strategic licensing partnerships with art.com and card.com. For card.com, Lisa Frank Inc. is licensing the brand for use on prepaid debit cards. For art.com, the company is licensing much of its artwork. "It's basically art for your dorm and home on all different kinds of substrates," Frank says. "We really think that's going to be just awesome."
United Talent Agency (UTA) is helping with the licensing of the Lisa Frank brand. There are nearly a dozen licensees selling at various retailers: Added Extras/GBG Beauty, Art.com, Bendon Publishing, Card.com, Cardinal Games, Celtek, DGL, ES Originals, Franco Manufacturing, Home Expressions, Innovative Designs and Kappa Publishing.
Many of Frank's creations were conceived before the Internet was ubiquitous, and adapting her oeuvre to electronics has been an exciting challenge. Today, it's all about apps, and Lisa Frank has hers.
Lisa Frank also has an active social media network with big fan engagement and celebrity followers. She reports nearly 800,000 engaged fans on Facebook and a fast-growing Instagram account.
For the future, UTA is working with Lisa Frank on a number of initiatives including:
Social media enhancement;
Entertainment opportunities in digital, film and television;
Ecommerce and direct-to-consumer print on-demand stores;
Commercial endorsements;
Brand collaborations; and
New product category licensing.
Looking for Licensees
Lisa Frank Inc. is looking to expand its licensing activities. "We don't have a master toy license yet," Frank points out. "We feel like we also need active wear and more fashion apparel."
Potential licensees should be high-quality manufacturers with strong retail relationships. "They also should be fashion-forward with a talented and experienced art department," recommends Frank, who is a hands-on licensor. "Every single thing that goes to market has my handprint on it – everything. Everything we do is inspirational. We are a creative outlet, so obviously we would like to cultivate creativity with everything that we do. We're artists first."
Lisa Frank Inc.'s licensed products are sold primarily in North America with some in Mexico and South America. "We had stores in Japan in the 1990s," Frank says. "We are still very popular there. However, more international licensing would definitely be a goal."
Frank attributes the company's success to the fun, creativity and inspirational nature of its products and its employees' hard work. "I think our fans have been the ones who have kept us successful," Frank says. "They're so passionate! A lot of celebrities love Lisa Frank – Paris Hilton, Kacey Musgraves, Anna Kendrick, Miranda Lambert. Mila Kunis and Hilary Duff also modeled for us when they were 'tweens!"
Lisa Frank Inc.'s company culture is one of creativity. "We're really dedicated and have a real attention to detail," Frank emphasizes. "We're very fussy, but the art is the best of the best. We're creative in an environment where everyone is encouraged to be creative and share ideas. I am very open to ideas. We're kind of like a family."