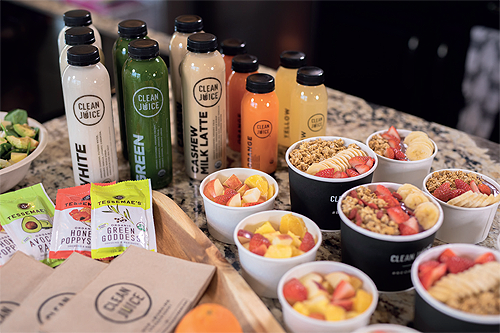 Zest of the best
One of America's fastest-growing (and only) organic juice bar operators, Clean Juice's USDA-certified outlets offer healthy, organic food and beverages to on-the-go guests across 25 states
In only four years of franchising, Clean Juice today has more than 100 stores open, with another 50 in development. How did this high-velocity juice bar start? Well, it was back in the summer of 2014, that Landon Eckles was looking for a career change. After years working in international real estate, Landon wanted to spend more time with his wife, Kat, and their growing young family. Passionate about health and wellness, Kat and Landon had, for years, envisioned opening a truly healthy, organic juice bar. In June 2015, their dream became a reality with the opening of Clean Juice's flagship store at Birkdale Village in Huntersville, North Carolina.
This first Clean Juice store was an immediate success, so much so that, less than a year later, the couple opened four more sites. Encouraged by such rapid growth and early success, the husband and wife team decided to franchise their young business. Just five years later, Clean Juice has over 100 locations across the United States, nearly 90 per cent of them franchised units, with 16 new sites currently in development. The company's achievements did not go unnoticed. Earlier this year, the company was listed at #957 on the Inc. 5000, the most prestigious ranking of the nation's fastest-growing private companies. Landon, who now works as Clean Juice's CEO, believes that the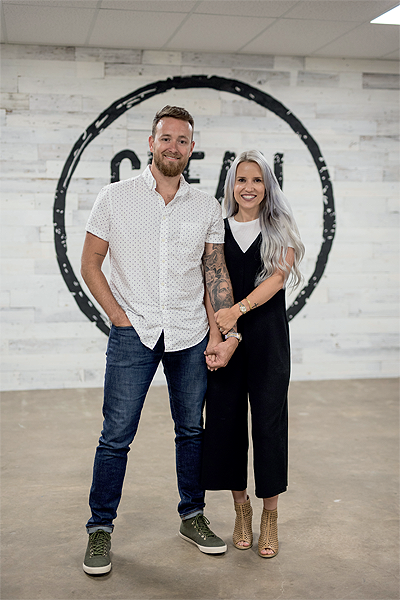 firm's success is owed in equal parts to the Clean Juice concept and how it has been executed by both its grinder management team and employees, as well as its Franchise Partners.
"Nobody had ever done a certified organic restaurant and scaled it nationally before," he declares. "Taking that risk, and figuring out that process, was very challenging, but now I think our guests have come to truly believe in us. They know that our menu is transparent, and they know we are not serving them something that is claiming to be healthy but isn't – like a lot of our competitors. When someone visits Clean Juice, they know they can trust the products being served and the people doing it behind the counter.
"Guest experience is so important to us and is a big part of our training and culture," Landon adds. "I've said since day one, it doesn't matter if you serve the best product in the world if it is not done with love and kindness. Our recipe for success has come from serving a great product, doing it in an incredible way, and creating an environment that guests want to return to."
Truly healthy
When it comes to the all-organic menu at Clean Juice, it was always imperative to Kat and Landon that the raw materials sourced to make its products were of the high-quality organic ingredients that would be better for the customer and better for the environment. From this foundation of healthy, super-food ingredients, the couple devised a diverse offering of more than just cold- and fresh pressed juices, as the name implies. The company also provides smoothies, acai bowls, Greenoa™ bowl salads, wraps and soups to suit all manner of people and palates.
"I knew that if we were able to provide something that we believe is truly healthy for our guests, then it would allow us to create more menu items that we really feel comfortable with," Landon says. "We wanted to have something for everybody because I think, a lot of the time, juice bars use ingredients nobody has ever heard of and it can be a little intimidating. We wanted to establish more of a family feel, so even though we have the intense smoothies and juices, we also have more basic products that appeal to a wider range of people.
"Today, our menu consists of cold-pressed juice, which is our bottled juice, freshly-made juice, smoothies and protein smoothies, acai bowls, which are like a very thick smoothie base topped with granola and fresh fruits, Greenoa salad bowls, wraps, toasted wraps, as well as seasonal items like soups and hot drinks in winter. As you can see, we are not just a juice bar, we have a plethora of menu items united by the fact that they are all very healthy, while also tasting good."
As a franchise, consistency in quality and service is vital for Clean Juice. The guest experience is paramount to the business. This is established on the first day that a prospective Franchise Partner visits the company's head office during Discovery Day and continues as they receive training and ongoing support to ensure all guests "feel better physically and emotionally when they leave than when they came in." More than anything, Landon believes it is important that a franchisee understands the company's culture and what it is that makes Clean Juice different.
"We educate our franchisees through the whole sales process so that they know what they are getting into and there are no surprises when they open in terms of our expectations," Landon states. "New franchisees go through months of training, including here at our home office where they spend time learning the back-end classroom materials, but also out in our stores where they learn everything from how to make a smoothie to the more complex ordering processes. Finally, once their own store is ready to open, we send a team of trainers out to help them create that Clean Juice culture and experience on the ground from day one. After that, we have field business consultants out across the country who work with our franchisees on a daily basis to make sure things are going well in areas like marketing and guest experience. It all means that our franchisees and our people have no doubts about the culture expectations at Clean Juice, from their first training session through to opening."
With the help of its Franchise Partners, Clean Juice has become a national brand in the United States, and customers can now enjoy its products from coast to coast. The firm recently took another positive step in its mission to provide Clean Juice products to as many people in as many communities as possible when it announced a new partnership with ezCater in early 2020. A corporate catering provider, ezCater will allow Clean Juice's catering menu to become an option for work events, parties, and gatherings.
"We provide our guests with an opportunity to order ahead and pick up their products, we deliver products out, and despite the pandemic, we see catering as a big part of our business as we move forward simply because people are craving healthy options," Landon explains. "We also believe that eZCater is trusted by a lot of existing customers and clients and will help us to get into offices and doctor's offices, as well as making us accessible to pharmaceutical reps, office managers, and a variety of people who cater for their workplace. I think many people want truly healthy catering and that is a niche we can provide."
Moving forward
Alongside its catering offering, Clean Juice recently launched an app that allows its guests to order ahead, delivery, earn rewards and most importantly, get educated on the importance of organic eating and living well through its BeOrganic podcast. The added service has been particularly useful in 2020 when Covid-19 has forced many consumers to stay away from stores and restaurants, and instead, order curbside or delivery.
"We launched the delivery offering about a year ago and I'm glad that we did because our business would have really suffered without it," Landon reports. "Guest traffic to our stores is still down a bit on last year, but our sales are up, and what that tells me is that people are ordering through our app and other third-party delivery providers. Customers want more accessibility. They want ease of ordering and products brought to them. Satisfying this market has helped increase our sales by around $100,000 a week."
Always looking to move the business forward, Landon aims to consistently and continually find ways to serve Clean Juice guests outside of its juice bars and the company is now looking at improving its packaging, pricing and delivery menu to ensure that customers keep coming back for more. Nevertheless, physical stores remain an important part of the Clean Juice strategy and the volume of customers visiting stores and utilizing curbside pickup services is rising each month.
"We didn't know Coronavirus was going to happen, but we were taking steps to protect our business from an event like a pandemic and ensure that we could still serve our guests. It was a little bit of luck and a little bit of listening to what our guests wanted," Landon reveals. "For us, the most important thing we do is serve really healthy, USDA organic products, but the thing that we care most about is loving our guests and creating an environment where they feel welcome. That will never stop, no matter how much we expand."
For Clean Juice, growth is the continued objective in 2021 and beyond, and Landon is confident that the company will succeed. "I believe that in three years' time, we will have at least 250 Clean Juice locations in the US," he asserts. "By 2025, I think that number will be 350 and by then, you will probably see a few Clean Juice stores open internationally too."