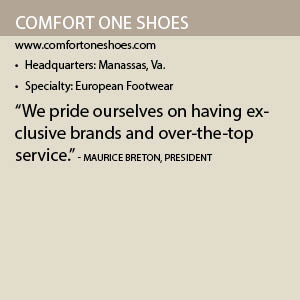 A longtime veteran of retail, his experience includes Federated Department Stores Inc. and Hofheimer's, a Virginia-based shoe retailer. In 1993, he decided to branch out with Comfort One Shoes but an exclusive focus on Euro-comfort products and Euro sizing.
It was during his time at Hofheimer's that the overseas products caught Breton's eye. Although the 150-store chain specialized in more traditional brands, he tested European brands in 10 locations with success. "We found that while they were at the highest price point in the chain they were turning much quicker than any other category," he recalls.
The fact that European shoes are made with a higher quality level also led Comfort One Shoes to retain that focus. As it has grown, it has stayed on top of trends. "We travel to all of the important European shoe shows in Germany and Italy," he says.
His son, Vice President of Merchandise Garrett Breton, adds that the company also works with factories to add features such as comfort materials and denser foam cushing. "It gives us the opportunity to bring them to our customers at a lower cost, and it allows us to maintain higher margins," he states.
Making it Easy
The Breton family ownership and management allows Comfort One Shoes to be nimble. "We make decisions very easily," Maurice Breton says. "We'll have a weekly management meeting and everyone goes out and executes the decisions that we all have agreed to."
Garrett Breton agrees, adding that this allows Comfort One Shoes to take a longer-term view of its business. "We don't have to answer to stockholders every quarter," he says.
But the Bretons also value the opinions of others. "We've surrounded ourselves over the years with two teams of advisors," Maurice Breton says, explaining that Comfort One Shoes has a cabinet and outside board of directors it calls upon.
"We've spent thousands of dollars over the years on consultants on areas where their expertise is greater than ours," he adds. "That's made a big difference in our operations."
Comfort One Shoes also looks at other industries for inspiration. "We can integrate those ideas pretty quickly in our business," Garrett Breton says. "We also travel around and visit the best independent retailers in the country and mutually share ideas with them."
Top Tech
Technology plays an important part in Comfort One Shoes' business. The company operates an online store, but at its brick and mortar locations, employees can scan each customer's foot with the help of Aetrex Worldwide Inc.'s iStep foot scanning technology.
Comfort One's Shoes staff can analyze the client's feet and help them with most foot problems. "We can recommend footwear that would help them solve problems," Maurice Breton says. "We also sell a lot of inserts or foot orthotics that help realign the foot."
Comfort One Shoes also utilizes a state-of-the-art, point-of-sale system that allows it to accurately track the return on investment for every product. "We're constantly monitoring that," Garrett Breton says.
The company also tracks the metrics of its salespeople, including how many sales dollars per hour. "We rank and report those weekly so our sales staff knows where they stand," he states.
Every salesperson has a goal they strive to reach every day, Maurice Breton says. "The report is done on a corporate basis to all stores and statically ranks the person's achievements," he says.
Employees are often rewarded with "auction dollars," which they can use toward prizes at an annual company event. "We've given away hundreds of flat screen TVs, laptops and trips to Hawaii and Mexico," he says.
A Successful Model
Comfort One Shoes' newest projects include the purchase and rehabilitation of a 217-year-old building in old town Alexandria. "It's directly across the street from our first and best store," Maurice Breton says, noting that the original 3,000-square-foot location will remain open.
The new location will give Comfort One Shoes' an additional 7,500 square feet. "We'll have a combined 10,500 square feet of shoe retail on both corners of King and Lee Streets," he says, noting that the location will be open in September.
Comfort One Shoes has had success by building multiple locations adjacent to each other, Breton says. Previously, the company built three stores on the 1600 block of Connecticut Avenue on Washington, D.C. "That's a total of 12,000 square feet and they're all very successful," Breton reports.
Trained to Please
Comfort One Shoes prides itself on strong customer service and provides extensive training to its associates. "We have what we call 'Comfort One University,'" Maurice Breton describes.
Through a 21-day program, employees are taught how to serve the stores' customers. "When they graduate from Comfort One University, we have a cap and gown event," he says. "We have, by far, the best-in-class training in our industry."
Comfort One Shoes also has secret shoppers visit its stores to ensure that its training works. If not, "We send some people back to some classes," he says. "Most of the time, we're happy with the scores. They're doing it our way."
The right personality also is essential for working at Comfort One Shoes. "We really try to hire the right people who have the right attitude," Garrett Breton says.
"We can train them on the basics of selling," he says. "If someone has a bad attitude or doesn't want to learn, it's not our job to train that person."
Exciting Destinations
The future is bright for Comfort One Shoes, particularly with its new building in Alexandria, Maurice Breton says. "That will be something that will be in the family for probably 100 years," he says.
"We sell very unique products with extremely unique services," he says, noting that customers appreciate this, along with its associates' willingness to problem solve. "We try to help."
But the company does not plan to rest on its laurels. "As a small independent, we have to become a more exciting experience," Garrett Breton says, noting that this is necessary as many turn to e-tailers for footwear.
"What we have to do is differentiate ourselves through innovation," he says, noting that Comfort One Shoes will add more unique products to its shelves and hold more in-store events.
The company also has the opportunity to acquire other small businesses as many of their owners consider retirement. "I like the idea of our locations being in great neighborhoods and big enough in volume and square footage to be an exciting destination for customers," Breton says.