Convenient Food Marts of PA Inc.
Founder Jerry Zubert started the company with a Convenient franchise location in Scranton, Pa., in 1976. "He was more or less the pioneer in the convenience store business in the Northeast Pennsylvania area," Gilchrist says, noting that Zubert grew to have 28 locations.
Gilchrist, who had retail experience with his own G&G Express Mart chain, met Zubert through his wholesale fuel supply company. "We send branded motor fuels to convenience stores, gas stations, truck stops, trucking companies and construction companies," Gilchrist says.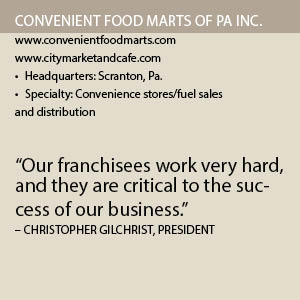 "I called on Jerry to see if I could sell him fuel," he recalls, noting that Zubert happened to be building a new location. "He gave us the opportunity to supply the store, and over the years, we supplied a number of locations."
When Zubert decided to exit the business, he sold it to Gilchrist, who has grown Convenient Food Marts of PA to 35 Convenient locations and four G&G locations. The company also has four locations for its City Market & Café concept, which features a deli with a full-service bar.
"We're very fortunate to have good franchisees that are hard working," Gilchrist says, adding that the company backs them with strong support. "We do their accounting and their payrolls and we help them with their buying power."
Convenient Food Marts of PA also offers them prime locations scattered throughout northeast and central Pennsylvania. "A lot of them are in small towns where there's a lot of rooftops and a lot of them are off the interstates as well," he says. "They attract customers and travelers."
New Opportunities
Convenient Food Marts of PA is adjusting to current industry trends that include increases in gas margins. Because of this, "We're working on co-brand locations with branded fuels," Gilchrist says.
Previously, the company opened co-branded locations with Subway and Dunkin' Donuts and enjoyed positive experiences each time. "It's worked out well," he says, noting that the company has several locations secured for its plans with branded fuels.
The company also is in the process of remodeling several locations that will add beer and alcohol selections, as well as Chester's Chicken and pizza programs. "We feel that foodservice and the sale of alcoholic beverages is going to be critical to our success moving forward," he says.
But one challenge Convenient Food Marts of PA is coping with is increased bureaucracy when opening new locations. "It becomes harder and more costly to develop and remodel sites," he admits, but asserts that the company has coped.
"You just buckle and up and work through it," he says. "We have a very good team of lawyers that help us work through the problem, through the zoning laws and with the government."
Strong and Stable
Gilchrist is proud of Convenient Food Marts of PA. "We are continuing to grow our numbers and progress forward [more and more] each year," he says. "We're also able to retain our knowledgeable staff that keeps the company moving forward."
When hiring, "We look for people that we feel are going to be honest and with us for a duration of them," Gilchrist says, adding that the company also values industry experience.
It also retains them by paying for a full benefits package, "which is unlike what most of our competition does," he says. "We also pay them above average and we treat them with respect."
Convenient Food Marts of PA also provides them with quality work environments. This June, the company moved into its new corporate headquarters in Summit, Pa., which gave its employees new offices, desks, phones and computers. "Our staff is very happy," he says.
He predicts that business will stay stable for the company, as long as it continues to grow its alcohol and foodservice offerings while adding prime locations to its real estate portfolio. "[We also need] to remain competitive with our fuels," he says.
"We distribute Sunoco, Valero and Gulf brands," he says. "Overall, the industry is going to be strong and stable for years to come."