CVS/pharmacy Launches myWeekly Ad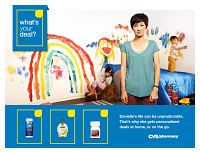 Oct. 17, 2013 – CVS/pharmacy, America's leading retail pharmacy, today announced the launch of a savings revolution that reinvents the American shopping staple – the weekly sales circular. Customers can now sign up for myWeekly Ad, a first-of-its-kind digital circular experience powered by the CVS/pharmacy ExtraCare program. The new circular serves up a personalized version of the sales ad for each customer, making it even easier to save both time and money.
Shoppers who use the new myWeekly Ad no longer have to browse each page of a paper circular to find the deals that interest them. Instead, upon signing up, each user will immediately see which of their favorite items are on sale that week, including frequently-bought items or hot deals in categories that might be of interest to that specific shopper. Personalized ExtraCare savings and rewards can also be found all in one place, making it easier for customers to see their available offers before they shop.
CVS/pharmacy is showcasing the new myWeekly Ad in a fun, playful way by kicking off a 360-degree marketing, advertising and social media campaign featuring three very recognizable celebrities: Joan Rivers, Nick Cannon and George Hamilton. The "What's Your Deal?" campaign highlights how CVS/pharmacy is a unifying shopping destination for all of these different characters – with something for everyone, which is at the heart of myWeekly Ad.
"Our 'What's Your Deal?' campaign is a tongue-in-cheek way for us to unveil the savings revolution that is myWeekly Ad, where we've created a personalized circular that is as unique as each of our customers," said Rob Price, Chief Marketing Officer of CVS/pharmacy. "CVS/pharmacy's myWeekly Ad is a convergence of technology and customer insights that revolutionizes savings. It acts as a matchmaker for our customers and their best deals."
At the core of myWeekly Ad is the CVS/pharmacy ExtraCare savings and rewards program, the world's largest retail loyalty program with more than 70 million active cardholder households. Members can easily sign up for myWeekly Ad online at www.cvs.com/myweeklyad to immediately see what their own personalized deals are.