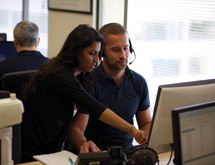 A common retailing problem customers have is finding a seemingly simple item in the style and color they want. The search for a TV stand was the occasion for the creation of Cymax, a furniture website that carries more than 30,000 SKUs in every category of furniture in mind-boggling selection.
Combining his seven years of working at Best Buy Canada with his degree in computer science that he earned at the same time, Arash Fasihi founded the company that evolved into Cymax in 2004 while working in the software industry. "My wife and I tried to find a specific TV stand we found online in Vancouver, and we couldn't find one," Fasihi recalls.
So Fasihi decided to take advantage of his Internet research on TV stands by establishing a website for them in 2004 that followed the model Fasihi had established with his first e-commerce platform for the travel industry. "We did some search engine optimization on TV stand terms in June 2004, and sales started coming," Fasihi remembers. "In December of 2004 is when we got our first sale.
"When the first order came in, I thought it was a test order for my e-commerce software.," Fasihi says. "I called the customer and said, 'I just received this sale and want to make sure you placed the order.' The customer said 'yes.'" Fasihi then had to find a manufacturer who could drop-ship the stand directly to the customer. "I faxed the order in, and the next day got two orders, then I got five and I started getting a lot of orders," he says. "We got ranked on Google as the first site for TV stands in 2004."
More Than TV Stands
After that, the business started snowballing, from $2 million in sales in 2005 to nearly $80 million last year and projected sales in 2013 of more than $100 million. But those are not only sales of TV stands.
The company immediately began adding other categories, such as office and bedroom furniture. It now offers a complete selection of furniture types and styles including living room, kitchen, dining, home entertainment, outdoor, children's, bar and game room, and décor accessories such as lamps and lighting, decorative items, clocks and coat and shoe racks.
CEO Fasihi estimates the website sells approximately 25,000 to 30,000 shipments monthly from up to 140 top brands. It sells approximately 10,000 SKUs of ready-to-assemble furniture as well as mid-range and high-end products. Up to 96 percent of the company's business is from the United States and the rest from Canada, Fasihi calculates. Customers pay in their own country's currency.
"Over the years, we've changed significantly for Canadian consumers, who have to pay taxes and duties and deal with delays," Fasihi declares. "Through technology and integration, we have created a method so we can move products much faster through the U.S. to Canada. We've opened up most of the merchandise that is on the U.S. website to Canadian customers."
On roughly 20 to 30 percent of its merchandise, Cymax offers white-glove set-up and assembly of products through a variety of local moving companies. With this service, products are unpacked in place in the room of the customer's choice, assembled if necessary and any packaging removed from the premises.
Software Not Furniture
Ironically, Fasihi sees Cymax as a software company. "We see ourselves as more of a technology company selling furniture through this software platform we have designed," he says. With its drop-ship model dealing directly with manufacturers, no inventory or brick-and-mortar stores are needed.
When customers order merchandise on the Cymax website, their order is sent to Cymax's fully automated order processing system and is routed to the manufacturers, vendors or distributors who handle it based on the customer's location. "We may buy directly from the manufacturer or their distributor for faster delivery," Fasihi explains.
Cymax has approximately 80 employees on staff who ensure that the manufacturer drop-shipping as well as the company's automated system operate smoothly and that customers are satisfied.
Proprietary Software
Fasihi decided that Cymax would write its own software because he thinks the third-party software available is not designed for selling large items such as furniture. "Most retailers tend to buy third-party, out-of-the-box solutions and then customize and tailor them to what they need," he says.
Thanks to Fasihi's combination of retailing and software experience, Cymax's various software modules for searching, pricing, fulfillment, marketing and customer relationship management are integrated so they can seamlessly work together and provide the optimum customer service.
"We work with top U.S. manufacturers," Fasihi notes. "We have full integration with them. If any of our partners are not on a third-party software solution, we offer them a service that provides them with similar service for free, so they can plug into our platform."
Selecting Manufacturers
Because of Cymax's drop-ship model, it must be sure that the manufacturers it works with meet certain criteria. "We go through a process of qualification and making sure the packaging, inventory, service and availability meet our minimum performance metrics," Fasihi explains. Once screened, the merchandising team examines the manufacturers, and the buyers work with the marketing team and its data to determine whether customers are seeking this company's products on-line and on the website. Data gathered through the website can be shared with Cymax's vendor partners.
Selection is where Fasihi sees his website excelling. "Selection becomes a big issue for the brick-and-mortar companies," Fasihi maintains. "We carry, for example, 1,500 desks and 1,300 TV stands. We offer the customer a better price and faster delivery. With the evolution of smart phones and tablets, the information is very accessible for the shoppers. They need more than a salesperson on the floor to sell the merchandise."
Customer reviews and feedback on the Cymax website can provide better information than can be gleaned from a person selling on commission, Fasihi insists. "If the manufacturer has a sale, the saving is passed on," he asserts. "If they lower the price, we lower the price for the customer. We don't have spiffs. We don't have any way to direct the salespeople or website to sell more because of those kinds of deals. We show the deals to the customer, and the customer decides."
Two-way Showrooming
When purchasing products like mattresses or comfortable furniture, customers like to sit in or lie on their potential purchases. A classic case of showrooming is a customer trying out a mattress in a store and then going online to purchase it.
"We do benefit from showrooming," Fasihi concedes. "There are people coming to our site for a specific product that they have seen in a local store. It works both ways. They start the research cycle online, they go the site – we pay for those advertising dollars – they look at the products, and they find an item they want. Now they know the brand, they know the name and type of item, and they try to find that item locally and make a purchase."
Prices for high-end products are similar in stores and on websites, Fasihi maintains, "The difference is that we can deliver the items much faster than brick-and-mortar store delivery timelines," he asserts.
Stores usually order a half or full truckload of the products that are part of their stocking program to benefit from a lower freight cost, whereas Cymax purchases individual products. "We have an express program," Fasihi says. "We can move a china cabinet from North Carolina to California in seven to 10 business days." Cymax offers free delivery by building its cost into the price of most products. However, customers must pay the delivery costs on returns.
For the future, Fasihi sees further expansion into modern furniture, home décor and outdoor furniture. "We love retailing, but what we sell doesn't have to be furniture – it can be anything," he emphasizes. "The software is designed to do a lot more, and that is our goal: to get into new categories, find the best price and option for the consumer and sell more."