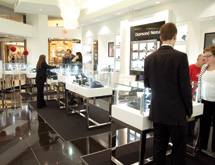 From time immemorial, the dream of alchemists has been to create gold from lead, or to find a goose that lays a golden egg. Gary LaCourt, founder and CEO of Diamond Nexus, has done the next best thing by creating gemstones that simulate diamonds and others that look like and are made of the same elements as rubies, emeralds and sapphires.
But how do you market against more than a century of tradition and mighty diamond cartels? "It's hard," LaCourt concedes, but not as hard as the surface of one of his company's diamond simulants. Diamond Nexus has been making inroads online in the jewelry business since its founding in 2004. "We think we are the iPhone of the jewelry industry," he says. "We offer a smart, modern and sophisticated way to buy and own fine jewelry."
Marketed online and in its own catalog – and only under its own brand – Diamond Nexus' jewelry featuring its man-made gemstones appear on Internet search engines and are featured in other sophisticated digital marketing methods. Diamond Nexus reports it has 120,000 fans on Facebook. The company also advertises on radio, cable networks such as Lifetime, Oxygen and Discovery, national broadcast television spots over the holidays and some local commercials in its home market of Milwaukee and nearby Chicago, the two markets where it currently has located stores.
Driving the Website
After visiting a Diamond Nexus store, many customers purchase online to save sales tax, although customers can buy from the stores' significant inventories if they choose to achieve immediate satisfaction. "We look at the stores differently," LaCourt explains. "Most traditional retailers – especially jewelry retailers – have stores, and they look to their website to advertise, brand and support the stores. It's the opposite for us – the stores support the website.
"The stores are less than 10 percent of our business, but they have a significant showrooming effect for us," LaCourt notes. "We really built the stores to serve that purpose. So the mandate of the stores isn't to sell jewelry – the mandate is to present the Diamond Nexus brand.
"When people walk into our stores, they walk into a gorgeous environment where it's all about explaining and presenting the product, not selling," he continues. "We want people who walk into the stores to have a wonderful experience. We want you to have fun and understand our product and get it on your hand, because that's the selling thing for us. Once you see our product on your finger or ears or wherever, you're looking at people who are sold. Immediately, they see the quality, how heavy the rings are and beautiful the stones. It's the easiest close in the world. A high percentage of customers who go through the stores wind up converting online."
No Regrets
LaCourt cites a study by Diamond Nexus that approximately 70 percent of the people who buy a diamond engagement ring are unhappy with their purchase. "What happens all the while the girl is growing up, she has a vision of a beautiful, big sparkling diamond engagement ring, and when she goes into the jewelry store, she points to it, and it usually is a more expensive product than they can afford," LaCourt says. "So she has to compromise, and many people don't get what they originally envisioned. "
The recipient of the ring may feel somewhat conflicted. "They walk out of the store feeling somehow that they compromised on this, but they've got to love it anyway, because this ring will be on their finger for the rest of their life," LaCourt says. "It's an unusual brand promise to your customers, where you're often not going to get what you want."
Diamond Nexus has the solution to that consumer's dilemma. "For a reasonable amount of money, you can purchase exactly what your vision is," LaCourt promises. "The average large jewelry store has dozens of different ring styles on display. We have hundreds on our site. Additionally, we have a full custom division that can make anything in the world. You describe your dream ring, from classic design to over-the-top opulence and we'll make it a reality, at a still very attainable price."
The custom division uses 3-D computer-aided design software online to enable customers to see a photorealistic rendering of their ring design. "We can put it on your finger so you can see what it looks like, and spin and turn it," LaCourt says. "It's a fun process."
Simulating Nature
Diamond Nexus partially produces diamonds, rubies, emeralds and sapphires at its lab in Austin, Texas, and completes the jewelry at its headquarters in Franklin, Wis. LaCourt says the rubies, emeralds and sapphires are chemically, optically and physically identical to those gems when they come out of the ground. The diamonds have a different chemical make-up than natural diamonds.
LaCourt points out that the company's diamond simulants are made in the United States and do not carry the taint that diamonds have of being used to finance warfare in Africa or causing environmental destruction from their strip mining.
Diamond Nexus receives a valuable promotional boost from the use of its company's products and its design of the crowns for the Miss Universe contest. Online voting determined which of three designs was chosen for the Miss Universe crown. The company also designed and manufactures the Miss USA and the Miss Teen USA crowns.
LaCourt characterizes his company as offering a better alternative for customers. "I don't think we're like any other jewelry company," he says. "We're much more like a high-tech company. We're passionate about what we do."