Cynthia Bailey Joins Forces With SoftSheen-Carson Laboratories Optimum Salon Haircare to Launch AMLA Legend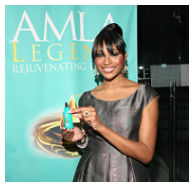 Feb. 20, 2013 – Supermodel, entrepreneur and Real Housewife of Atlanta, Cynthia Bailey joined forces with SoftSheen-Carson Laboratories, the #1 ethnic haircare brand in the world, to expand the Optimum Salon Haircare line and launch a new rejuvenating product collection infused with legendary Amla oil, an Indian oil used for thousands of years in India as a natural hair conditioner. The Optimum Salon Haircare AMLA Legend Rejuvenating Ritual visibly makes hair thicker and fuller.
During the Optimum Salon Haircare AMLA Legend launch at AIRE Ancient Baths, Cynthia Bailey, along with SoftSheen-Carson Artistic Style Director Johnny Wright, introduced this rejuvenating ritual highlighting all of the line's benefits for hair of any texture. Models with both natural and relaxed hair were also on hand at the launch as walking proof that AMLA Legend makes hair instantly thicker and fuller, reversing damage from day one.
Cynthia shared her great experience using AMLA Legend; everything from the Billion Hair Potion to the 1st No-Mix, No-Lye Relaxer, which she even said, "Smells great," something unheard of when speaking about relaxers. "My hair goes through a lot and I plan on continuing to use the Optimum AMLA Legend line to keep my hair looking healthy and fabulous."
Ayurvedic expert and physician, Dr. Bhaswati Bhattacharya shared her experiences using Amla oil with her patients as well as a young child in her own hair. Dr. Bhattacharya also said, "The Amla fruit is high in vitamin C and anti-oxidants and also contains water, protein, carbohydrates, vitamins and minerals. Basically, Amla is a superfruit."
"Our premium products have been endorsed by stylists from around the globe who are raving about the results," stated Mezei Jefferson, Education Director for SoftSheen-Carson during the presentation. "The Optimum AMLA Legend line combines the power of Amla with state-of-the-art haircare. In this unique hair care ritual, hair is transformed with amazing inner strength and shine."