Retail Group of America continues its rollout and development of European fashion brands for the U.S.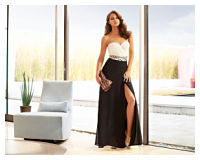 Feb. 19, 2013 – Retail Group of America (RGA) is pleased to announce that it has executed a 52 lease package with Pyramid Management Group, the largest privately owned developer of shopping centers in the Northeast. The leases are for specialty French, Spanish, German and British fashion brands such as Promod, Jennyfer, Cortefiel, Women's Secret, New Yorker, Ziddy, Sergent Major, Suite Blanco and Lipsy; all of which are new fashion branded concepts to the United States.
Launching initially on both coasts, RGA plans to build a strong presence in major shopping malls across the country. Through aggressive acquisition efforts, Retail Group of America plans to further expand by bringing upwards of 11 European brands, through many top developers, to the U.S. throughout 2013. An additional 2,000 locations are targeted for opening over the next five years. Retail Group of America, the U.S. operating arm of Fawaz Al Hokair Fashion Retail, the global franchise leader based in Saudi Arabia, is pursuing retail and real estate interests within the United States. Al Hokair operates franchise retail across multiple fashion classifications including women's, men's and children's apparel, footwear and accessories, cosmetics and lingerie. With more than 70 fashion brand partners, the Al Hokair Group operates over 1500 boutiques globally. This diverse retail operation includes locations in the Kingdom of Saudi Arabia, the Middle East, North Africa, the CIS, and in the U.S.
"Working from the Al Hokair Group's existing successful brand relationships, RGA will bring a mix of fresh European fashion to the U.S. market. We are very excited at this opportunity and are committed to providing the U.S. consumer with a new diverse European fashion perspective. By identifying brands, acquiring them, and building these stores, we are creating a new market for the U.S. shopper. We are just beginning this unprecedented venture, with further expansion planned for the near future. I'm excited to see anticipations grow and to open our doors to this new consumer." – Aaron Eisenberg, CEO
"Pyramid Management Group is very pleased to partner with RGA to bring these brands to this country. It is very unique to have the opportunity to open stores on such a large scale that are completely new to the United States and we are thrilled to be able to accomplish just that, with RGA". – Stephen Congel, CEO
Today, RGA operates the U.K. fashion brands, Monsoon and Accessorize, with 24 brick and mortar locations across the East Coast and Midwest. Monsoon and Accessorize bring an international flavor to the U.S. market and have developed a strong brand with a highly distinctive identity. Monsoon offers clothing for women and children, while the Accessorize brand offers jewelry and accessories including, hats, handbags, scarfs and a small resort collection for spring.