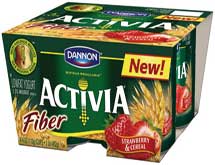 The company behind one of the nation's top-selling yogurt brands is innovating to find new ways to bring its healthy products to consumers. The tagline for The Dannon Company, Inc. is 'Today, for tomorrow.' It sounds simple, and it is—as simple as having a cup of yogurt to nourish your body, and that's the point. "It reflects Dannon's philosophy that to enjoy the best of what life has to offer tomorrow, we need to take care of ourselves today," said Marc Jove, senior vice president of marketing for Dannon, a US division of the Danone Group.
Danone Group is a multi-billion-dollar bottled water and fresh dairy product manufacturer with about 75,000 employees. In addition to the US division, Danone Group has operations in Africa and the Middle East, Latin America, Asia, and Central and Eastern Europe, with its roots going back to 1919 and the introduction of probiotic cultures in the pharmacies of Spain and then France.
At that time, Danone differentiated itself by having unique cultures, which it still preserves. Those cultures were not only good for consumers but also tasted great. It's the same philosophy that leads Dannon today. Since branching into the US market in 1942, the company has continued to grow, but in comparison to its other markets, US consumption of yogurt products is still relatively low.
"We consume five times less yogurt in the US than in our founding countries of Spain and France," said Jove. "We see that as tremendous opportunity."
Common sense
In the past five years, consumption of yogurt products has grown by 33%. As yogurt becomes more popular in the US market, Dannon's goal is to educate consumers on its benefits by finding ways to incorporate yogurt into often-busy everyday lives. Two of Dannon's main focuses have been its Activia and DanActive brands.
Activia is a low-fat yogurt that was first introduced in the US in 2006. The product contains Bifidus Regularis, a unique, natural probiotic culture that helps with digestion. The brand brought Dannon a high level of success right from the start. Between 2006 and 2007, the brand achieved more than $100 million in sales, which Jove said happens to less than 0.1% of new grocery products.
In the past year, to continue building on the Activia brand recognition and educating customers, Dannon renewed its advertising campaign with commercials featuring consumer testimonials told to actress Jamie Lee Curtis.
"On the marketing side, we needed to get closer to our consumer base, and letting our customers express how they feel when they eat the product is the best way to do this," said Jove. The same philosophy holds true for the company's DanActive product line, which helps support the immune system. DanActive commercials feature firefighters and daycare professionals—real people and real stories about how their lives are helped while eating this product.
On the sales side, after analyzing its portfolio and how to approach 2009, Dannon began introducing new products across the board. For Activia, consumers can now purchase dairy drinks and fiber-enhanced products, while Dannon's Light & Fit line introduced new formulas and tastes to its single-serve cups. By offering consumers yogurt drinks and single-serve cups, Jove said the company is keeping pace with consumer habits.
"Every day, we eat and drink more and more outside of our homes," he said. "On-the-go habits are increasing, so we had to give a solution to consumers who wanted to have our products fit into their busy lives. The drinks just made a lot of sense."
Health first
Dannon has three plants in the US. Its largest plant is nearly 400,000 square feet and is located in Minster, Ohio. Its second largest is in West Jordan, Utah, south of Salt Lake City, and measures roughly 300,000 square feet. Its third plant is located in Fort Worth, Texas.
In the past couple of years, Dannon has expanded its Ohio and Utah locations. Its Ohio location was built 40 years ago and is now undergoing a modernization and expansion overhaul to keep up with the needs of the company's growing US consumer base. "We've done a physical expansion, as well as upgrades in technology and the plant's operations," said Michael Neuwirth, senior director of public relations.
Last year, the plant installed an aerobic digestion wastewater treatment facility that uses nature to clean the wastewater. The system harnesses the power of microbes to digest waste and put it back into the environment as clean as possible. In 2008, Dannon set conservation benchmarks for energy efficiency and consumption, and Neuwirth said the aerobic digestion wastewater treatment facility is part of its plans to achieve its energy and water-related goals.
The company is also installing a more efficient boiler system and new air compression systems that will improve the plant's energy efficiencies and reduce energy consumption while making space to accommodate more yogurt production. Similar changes will be happening at its Utah facility, which was built 11 years ago and designed for modular expansion.
"We've expanded and moved the walls in our Utah facility to accommodate more production lines and milk processing and packaging capabilities," said Neuwirth. Dannon also tightened up its processes on its production side by finding ways to eliminate unnecessary packaging. By removing the over-cap that used to go on top of its six-ounce yogurt cups, the company reduced the amount of plastic it uses each year by 3.5 million pounds, and that's just the start.
"We trimmed our cases to save on cardboard and made the walls of our cups thinner," Neuwirth said. "It's an ongoing improvement process for us. So as we're looking for ways to improve the way we serve our consumers, we're also looking for ways to better serve our Earth."