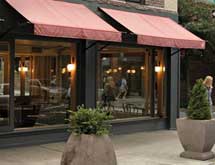 Amidst a recession, this company's restaurants continue to thrive, allowing its owners the opportunity to reach into other markets. New York City is where people go to make their dreams come true, but as many learn the hard way, real ambition is what sets the dreamers apart from those who succeed. Eric and Bruce Bromberg, co-owners of Blue Ribbon Restaurants, have proven they fall into the latter category.
Eric and Bruce opened their first restaurant in New York City in 1992. Just before that time, Bruce attended cooking school in Paris, and Eric worked as a chef in Manhattan. When space became available across the street from the restaurant where Eric worked, the two brothers jumped at the opportunity to establish their own business.
"We always knew we wanted to build careers around cooking," Bruce said. "We both spent a lot of time working in high-end, rigidly structured restaurants in France and the US, and when we opened our own place, we wanted to do something different."
As a result, the brothers built Blue Ribbon Restaurants on the idea that top-quality cuisine can be enjoyed in a relaxed atmosphere. Their restaurant group now consists of eight locations (six in Manhattan and two in Brooklyn) where customers can enjoy great food without the fuss of a formal environment.
Later this year, the pair plans to open another restaurant in Brooklyn, although it won't be under the Blue Ribbon name. "I'm not sure whether we'll open a restaurant outside of New York in the near future or not," Bruce said. "This city has amazing clientele and a readily available workforce."
With approximately 450 employees and more than $30 million annual revenue, Eric and Bruce are still the chefs and owner-operators of all of the Blue Ribbon Restaurants, so when they do expand the business, they're careful not to take on more than they can handle.
"From the beginning, our intention was to grow at a comfortable rate," Eric said. "We always want to be hands-on and fully involved in every step we execute."
A new market
With all eight restaurant locations thriving, Eric and Bruce recently decided to diversify their business model and enter into the distribution market, selling Naked Nuggets, a healthy, grilled chicken nugget designed specifically for children.
The cuisine at Blue Ribbon Restaurants is geared toward adults; cooking meals geared specifically toward children never crossed either brother's mind until Eric became a father. Once his daughter began to eat real food, Eric realized that there was a lack of healthy, high quality food products for children.
"Most food made specifically for children is breaded and fried," Eric said. "It's difficult to find simple, healthy food that they'll enjoy. In part, we were on a mission to do something great, as opposed to making a business decision."
Eventually, the brothers developed a product called Naked Nuggets, which are similar to traditional chicken nuggets, except they're not breaded or fried, and they go through minimal processing. "Our objective was to start with the best chicken we could find and do as little to it as possible," Eric said.
Although both the restaurant and distribution sides of the business are part of the food industry, it didn't take long for Eric and Bruce to learn that they operate in dissimilar ways.
A broader scope
The brothers' first step was to figure out how to commercialize their product. They spent years working on their product and searching for a co-packer whose vision aligned with theirs and whose performance met their demands. Ultimately, Eric and Bruce partnered with BrucePac, a company located in Silverton, Ore., and the team began to market Naked Nuggets through club stores, like Costco.
As a start-up without significant capitalization or investments, the team chose to work with club stores because it eliminated the need for a third-party distributor. In April 2007, Naked Nuggets debuted in Costco stores.
Recently, the brothers began a partnership with Garden Spot Distributors, and they're preparing to launch Naked Nuggets in an array of retail locations along the East Coast this spring. Although it was a relatively smooth ride, Eric and Bruce faced a few challenges along the way.
"In the restaurant world, when someone is unhappy with their meal, you can instantly affect change," Bruce said. "When we entered the retail market, we discovered that's not possible. Developing the product, it takes months to make one slight recipe change, for example. We had to rely on other people more than we ever did in our restaurants."
The brothers also encountered some initial resistance when introducing the Naked Nuggets. "We're completely reinventing a product that's been around for decades," Eric said. "Getting distributors and buyers to see the value in your product is tough because there's always risk involved. If the chicken nuggets they have on the shelf are selling, it's not easy to convince them to put our product up there instead, regardless of whether or not it's healthier."
But the pair didn't let the resistance negatively affect them, and they refused to compromise their vision. Even in today's economy, when the restaurant industry is taking a hit, Eric and Bruce remain positive. Up to this point, their business has yet to be affected by the recession.
"We've grown at a steady pace to make sure we don't extend ourselves beyond our capabilities," Eric said. "We position ourselves at a comfortable level, and we continue to work hard, day in and day out. The economy, although something to consider, is not the most significant issue on the table for us."
"We've always had a different business approach," Bruce said. "Our mantra is that we don't run our business or make decisions based on the bottom line—we're far more concerned with delivering the best dining experience we can. And if we do that, success will follow."