Davis Vision Launching New Brand Strategy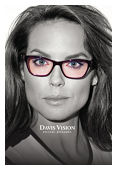 June 21, 2013 – Davis Vision is launching a new "Eyecare Reframed" brand strategy aimed at educating employers and consumers about eye wear and eye care. The model has been well established, and is the only offering that wholly controls the end-to-end delivery of vision care, to include all labs, frame design, retail and every aspect of the customer service delivery. This includes a solid foundation of 40,000 independent and retail participating provider points of access.
Davis Vision's "Eyecare Reframed" system provides a superior customer experience, as a result of the fact that Davis Vision's buying power comes from direct end-to-end management of the process, starting with eyewear fabrication which enables Davis to provide a more progressive low-to-no out of pocket offering through a proprietary eyewear collection, and through their retail arm at Visionworks.
"After 25 years on the health care side of the industry," said Davis Vision president Celina Burns, "I joined Davis Vision precisely because of its distinctly unique and wholly controlled integrated delivery system, which doesn't exist elsewhere in the market today. What was additionally appealing was the fact that despite Davis Vision being the third largest vision plan offering available, we are our own best kept secret. Our new campaign is designed to better educate employers about the breadth of value and choice available through Davis Vision. In summary, the efficiencies garnered through our collective lab and frame design capability alone translate into an unparalleled suite of options, to include using an allowance for the members frames of choice through any participating provider. We are additionally in the process of packaging additional product offering(s) to take the member out-of-pocket experience to an even greater level of savings."