Rachel Zoe Partners With Covet Fashion, the Newest Mobile Fashion App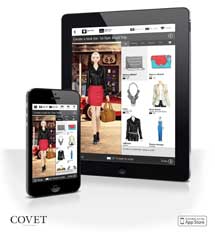 June 24, 2013 – Launching at the center of explosive tablet and mobile growth, Covet Fashion engages women in a unique fashion experience where they can layer pieces together on a virtual mannequin to create their own head to toe looks. Participants style with thousands of the latest designer apparel and accessories for a chance to win real world merchandise from top brands. The app will also feature celebrities, stylists, designers and other influencers who contribute content and provide users with expert fashion advice. Designer and stylist Rachel Zoe will be the first Style Ambassador to collaborate with Covet Fashion.
Merging technology, fashion, m-commerce and gaming, Covet Fashion brings luxury brands to life in a social environment. As mobile and tablet devices are quickly becoming the number one method for shopping and interacting with content, brands need to find a way to reach these massive, untapped mobile audiences. Covet Fashion is a platform specifically designed for this purpose, offering brands the ability to connect with new audiences and inspire authentic engagement, ultimately driving direct online sales . Catering to 18-to 35-year-old women who love to share and enjoy shopping with their friends, Covet Fashion is at the forefront of a movement that is reshaping the way people discover, shop, make purchasing decisions, and interact with fashion brands online.
"Covet Fashion is a personalized styling experience that allows you to pick pieces from the best virtual closet," says Zoe. "I think it has the potential to change the way people discover and interact with fashion."
Brands aren't the only fashion players looking to tap into the mobile and tablet audiences that Covet Fashion reaches. Industry veterans and tastemakers are hoping to extend their reach to millions of new fans. The Covet Fashion platform allows fashion authorities like Rachel Zoe to develop deeper connections with their audience through an interactive experience never seen before, such as styling new looks and outfits. Users can share, re-style, and directly purchase these looks from the app. Zoe and other contributors will be creating style challenges where users can submit looks to the fashion community. As the first Covet Fashion Style Ambassador, Zoe will be judging, writing style tips, and including The Zoe Report trend content as part of the Covet Fashion experience. She will also reward winners of custom events with direct styling feedback – making her fashion expertise accessible to users in a uniquely personal way.
Covet Fashion is unique in how it carries the real world excitement of discovering and interacting with fashion to the online community by creating an emotional connection to brands and clothes. Once users dress and style their customizable avatars, they have the option to share their look with a broader fashion community, vote on others' styles, and purchase individual items directly from the brands, ultimately driving m-commerce. This brings all the pieces of the social shopping puzzle together — inspiring people to discover the most fashion-forward styles in the market and to shop with ease, all while having fun and sharing their style ideas with celebrities, bloggers, and friends.
"We take it one step further, so rather than just deciding what individual pieces they like, users can discover how those pieces can be styled together and incorporated into their real life wardrobe," explains Jeffrey Tseng, CEO of Crowdstar, Covet Fashion's parent company. "It's like having an infinite closet of high contemporary fashion at your fingertips. That's what makes this a truly engrossing shopping experience."
Covet Fashion is currently live in international test markets and will be officially available worldwide early July. The company will continue to add contemporary and luxury designers to their expanding roster, which currently includes Rebecca Minkoff, DKNY, Joie, Halston Heritage, Dannijo, Torn by Ronny Kobo, Cut25 by Yigal Azrouel, Cynthia Rowley, Sigerson Morrison, Hudson, Botkier, and more. The platform will provide brands with data points and analytics, offering deep insight into their consumers' buying behavior along with an additional passage to add to revenue streams.
Covet Fashion will be a free app available on Apple's mobile devices, including iPad, iPhone and iPods.