Pandora Jewelry Renews Endorsement Deal with Three-Time Medalist Aly Raisman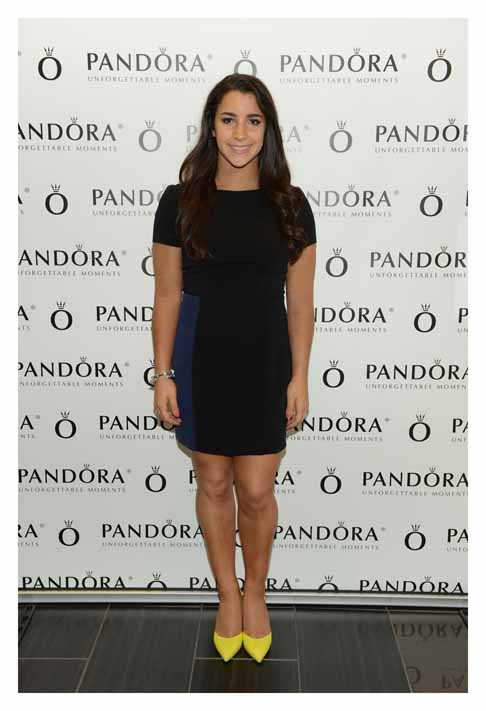 June 25, 2013 – Pandora Jewelry, one of the world's largest jewelry brands, announced today a renewal of its partnership with three-time medalist and U.S. Captain gymnast, Alexandra (Aly) Raisman. The 30-year-old jewelry brand prides itself in offering women across the world a universe of high quality jewelry that celebrates each woman's personal style and special moments. Pandora is thrilled to continue to stand by Aly as she continues to create unforgettable moments through the world of gymnastics, inspiring women and girls of all ages around the world.
As part of the endorsement deal, Aly will continue to make in-store appearances at several Pandora stores across the United States. Her next Pandora appearances include:
Wednesday, June 26 from 10:30 a.m. – 12:30 p.m.
Pandora Fashion Show Mall
3200 Las Vegas Boulevard South, Suite 1495
Las Vegas, Nevada
Saturday, June 29 from 10:30 a.m. – 12:30 p.m.
Pandora at the Oaks Mall
366 West Hillcrest Drive
Thousand Oaks, California
"I'm excited to continue my partnership with Pandora," said Aly. "I am really into fashion, so being able to continue working with them is a great honor. Pandora's style is great because it can be dressed up or down, but more importantly, anyone can create pieces of jewelry that tell part of their story — I have bracelets that represent my love for gymnastics, my favorite color, my latest vacation with my family and my personal style. I am excited to continue the relationship with Pandora, and I hope to help them spread more awareness about the brand."
In addition to the in-store appearances, Aly (https://twitter.com/aly_raisman or https://www.facebook.com/AlyRaisman) will continue to actively contribute to Pandora's growing social media efforts (https://twitter.com/PANDORA_NA or https://www.facebook.com/PANDORAJewelry).