Deloitte Consumer Spending Index Continues to Slide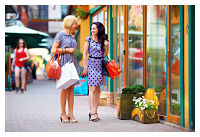 April 17, 2014 – The Deloitte Consumer Spending Index (Index) dropped half a point in March, but continues to indicate positive conditions for consumers. The Index tracks consumer cash flow as an indicator of future consumer spending.
"The outlook for consumer spending remains healthy," said Daniel Bachman, Deloitte's senior U.S. economist. "The Index declined primarily due to a slower increase in median home prices. While housing prices are cooling off a bit, possibly due to the weather, there is no indication that the inventory of houses for sale has suddenly picked up."
The Index, which comprises four components – tax burden, initial unemployment claims, real wages and real home prices – decreased to 3.51 this month from 4.03 last month.
"Although the economy is continuing to improve, retailers should not take their foot off the pedal," said Alison Paul, vice chairman, Deloitte LLP and Retail & Distribution sector leader. "The month of April has a number of factors that could positively impact sales, from warmer weather conditions to a later Easter holiday and potentially more dollars in the pockets of consumers due to tax refunds. The key will be for retailers to capitalize on these market conditions and leverage its digital channels to influence sales and entice consumers with seasonal offerings in a personalized and moment-appropriate way."
Highlights of the Index include:
Tax Burden: The tax rate is holding steady for the fourth straight month at 11.8 percent.
Initial Unemployment Claims: Claims declined 4.1 percent from the same period last year, falling to 337,000. However, they rose 1.0 percent increase from the prior months' claim rate of 334,000.
Real Wages: Real hourly wages continue to show a gradual increase, rising 1.0 percent from this time last year to $8.86.
Real New Home Prices: New home prices climbed slightly from the prior month to $111,000, however over the past 12 months they have risen only 0.8 percent—down from a 5.5% increase in the twelve months to January.