Oral Edwards founded the Marianna, Ark.-based company in 1959 after starting his career in the grocery business as an assistant manager in Millington, Tenn. Along with some partners, Edwards began opening stores in Arkansas before forming GES Inc., an Arkansas Corporation, in 1968 to consolidate this group of supermarkets.
Steve Edwards joined his father in business full-time after graduating from college in 1975. He has been the president of the company since 1998 and put together the acquisition plan to expand into the central Arkansas market in 2009.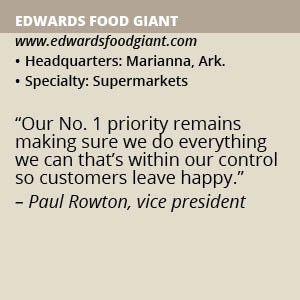 Today, the Edwards family owns and operates GES Inc., which has grown to 12 stores over the past few years. The company operates stores under two different banners, including seven Edwards Food Giant stores and five Edwards Cash Saver stores, all of which are located in Arkansas. "We are a family owned company and we are still very focused on store operations, providing a niche market for our customers and we have done that by providing high-quality meat departments," Rowton says.
At the end of August, Edwards Food Giant celebrated its 60th anniversary with a special weekly advertisement that was made to look like one of the ads it ran in the early 1960s. "The supermarket landscape has changed drastically since we were founded 60 years ago, but we still try every day to do the same things Oral Edwards did, which is really take care of our customers and go above and beyond," Rowton says. "Although that looks different now than it did in 1959, our No. 1 priority remains making sure we do everything we can that's within our control so customers leave happy."
The Value of the Perimeter
Although its competitors may be offering more pre-packaged meats, Edwards Food Giant has gone the other direction, focusing on cutting meat in each store, making its own line of sausages other value-added items. "It's been successful for us," Rowton says. "Eight of our stores have large hickory smokers. We smoke different cuts of meats that customers can purchase hot to take straight home and eat. It's been a big hit for the stores."
In addition to its excellent meat departments, Edwards Food Giant focuses heavily on the perimeter of its stores, which includes the produce, deli/bakery and floral departments. "That's where we try to set ourselves apart, by putting an emphasis on quality," Rowton says.
Edwards Food Giant carries a large variety of prepared and ready-to-eat meals consumers crave, and continues to expand its menu. "We know that parents today are very busy, yet they still want to put a fresh, nutritious meal on the table, even if they don't have the prep time they used to," Rowton explains. "Our entire team works hard to allow those customers to get fresh, ready to eat items, helping them save time and provide a good, high-quality meal at home."
Late last year, Edwards Food Giant launched a new loyalty program for customers to earn points per purchase and use those points for discounts or free items. The company is working to add a fuel aspect to that program.
Exceptional Service
The most unique opportunity Edwards Food Giant faces today is continuing to find and retain talented individuals. Although it uses traditional outlets like social media and job postings to recruit, the company says its referral program has been very successful. "Existing team members know what it takes and what exceptional customer service looks like," Rowton says. "So when they bring us someone they are endorsing that has the same standards, that's a win for us."
Edwards Food Giant recently partnered with the Retail Learning Institute to develop course paths for team members and managers. The online learning courses cover everything from the overall store conditions to the specific courses on choosing the best fruits or how to cut fruit, for example. "It's not a fully mature program yet, but we are excited with where we are going with that," Rowton says. "I think we are very knowledgeable in meat and have really put an emphasis on that over the past 60 years, but produce has become more popular so we have to mimic what we did in meat in our produce department."
Edwards Food Giant will continue to focus on exceptional customer service, which today has extended to its Edwards Curbside offering. "When a customer places an order, our personal shoppers ask the butcher for the best cut of meat with the best marbling on it, for example, and we utilize those people's talents to grow the business," Rowton says. "We train our personal shoppers that if they aren't 100 percent sure they know what the customer wants, to ask them and go the extra mile."
There is no doubt that much of the success of the company can be attributed to an award-winning team of loyal employees, many of which have been with the company for more than 30 years. "Their commitment to providing the highest level of service to guests is the difference maker in an extremely competitive industry," Rowton says. "The Edwards family is thankful for their team members and their dedication to the company's vision."