Ektio Launches Next Generation Model Shoe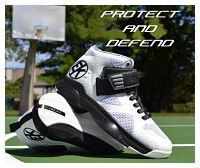 Jan. 17, 2013 – Ektio Athletic Shoes, the leader in revolutionary ankle support technology, has announced the launch of their new shoe, "The Breakaway," which improves upon previous models through enhanced comfort, performance, and ease of use. Additionally, a secondary but equally important benefit of the ankle support technology has been a noticeable increase in shooting efficiency for basketball players. The Breakaway is scheduled to launch January 22, 2013. The new sneaker will launch at Ektio.com and be available at Eastbay.com and Amazon.com a few weeks after the initial launch.
John Starks, the former New York Knicks guard, and member of the Ektio Team says this shoe will set the standard for maximum performance and ankle protection in basketball, tennis, volleyball and more. "We've taken our product to a whole new level," Starks said. "We're always striving to improve the product, and we've certainly done that with the Breakaway." Rick Barry, NBA Hall of Famer and member of the Ektio Team, has said, "I find it difficult to understand why any basketball player would not wear the Ektio shoe."
A recent survey done by Ektio revealed that 42% of players felt that Ektio shoes improved their outside shooting efficiency compared to their prior sneakers. One of the fundamentals of consistent outside shooting is balance and stability. Ektio shoes, which provide ankle support technology designed to protect against sprained ankles, also offers maximum balance and stability for the foot and ankle. Basketball experts and trainers believe this is the explanation for the better shooting the Ektio shoe provides.
"Ankle injuries are the number one injury in basketball and the most common orthopedic injury in the world," said Dr. Barry Katz, CEO of Ektio. "There are devastating consequences to athletes that experience severe ankle sprains. Players that experience one sprain increase their chances of future sprains by up to 35%. This new product has the chance to be a real game changer in the shoe industry, as well as the leader in providing world-class ankle support.