Puma Announces Partnership with Centauro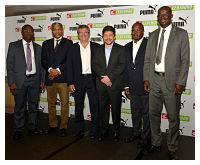 Jan. 18, 2013 – Puma announced today that it has entered a partnership with Centauro, the largest sporting goods retail chain in Latin America, through which it will sub-license the branding rights to four of its partnered African federations; Ivory Coast, Ghana, Cameroon and Senegal. The partnership is effective from January 2013 through to the end of the 2014 FIFA World Cup and through this deal, the four African federations will carry Centauro branding on licensed training wear, perimeter boards at training facilities and press walls.
From the outset of the partnership, licensed product including replica shirts will be on sale in Centauro stores in Brazil. To drive visibility of this growing focus on African football in Centauro stores, Puma and Centauro will work closely together to activate a marketing campaign in which Ivory Coast and Manchester City midfielder Yaya Touré will feature. The Puma sponsored football star and CAF African Player of the Year for 2011 and 2012, will feature within ATL and BTL campaigns to promote the availability of the Ivory Coast, Ghana, Cameroon and Senegal replica kits and licensed product within Centauro stores.
"This new relationship with Centauro is a positive move for the brand and a demonstration of our continued commitment to African football," said Stefano Caroti, Chief Commercial Officer for Puma commented. "Our journey with the football on this continent began more than ten years ago and we continue to maintain this. African football is experiencing a growing profile and credibility in Latin America, a region with an expanding market and clear commercial opportunities to capitalize on the demand of consumers for licensed product. Through this partnership with Centauro, we hope to further drive the visibility of our partnered African federations and African football in the 2014 FIFA World Cup."
"We are very excited to be working with Puma and there's some very interesting marketing activations in the pipe line which will be rolled out through 2013, ultimately building up to the FIFA World Cup Brazil 2014, when desire for licensed football product will be at its peak," Centauro owner Sebastião Bomfim Filho said. "We've seen a growth in our region in the interest for African football, and this is an opportunity that we're keen to capitalize on. Puma is the brand with the greatest footing in African football and is therefore the perfect partner for this endeavor."