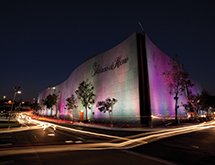 'Soy Totalmente Palacio" – I am totally Palacio. It's the slogan that was launched by El Palacio de Hierro's leader, Don Alberto Baillères in 1996, and it still holds true today. Rarely does a retailer keep the same slogan for 18 years, but these words embody the essence and culture of the 125-year old upscale department store so perfectly that no truer words could capture its spirit. "Soy Totalmente Palacio" has resonated to the point of becoming part of the Mexican vernacular.
Last year, Women's Wear Daily published an extensive spread on the 125-year anniversary of this iconic retailer. Baillères, known to be a supremely private individual, gave a rare interview to the magazine. He was asked how he came up with the store's famous slogan. This is what he answered:
"I used to have long brainstorming sessions on marketing and advertising with our advisors and senior executives," he told the publication. "One day, I was trying to express my vision on the main message for our advertising campaign. I was saying concurrent but disconnected phrases, like 'El Palacio de Hierro is an inspired vision consumers share,' 'an unforgettable experience consumers love,' 'an intimate feeling consumers get,' 'an aspiration,' 'a real dream,' on how well they look, how well they live and how well they feel; how deeply the consumer and Palacio are identified with each other. Then, 'Palacio is its customers,' 'Consumers are Palacio de Hierro,' 'I am Palacio'… 'I am totally Palacio'… Eureka! 'Soy Totalmente Palacio.'"
When that slogan was born, it was a risky marketing move to target women directly, but the results proved to be spectacular. Two separate dialogues were formed – one for men and another for women – coupled with its first image campaign a year after the slogan was launched. The artistic cinematography and unprecedented production levels changed the whole advertising culture in its country.
"Soy Totalmente Palacio" became the most award-winning campaign in Mexico, recognized by major local and international competitions and earning 77 awards between 1998 and 2001. In 2008, the Millward Brown study of the best brands in Mexico ranked it among the five best advertising campaigns. The strategic move continues to reap success as its coined phrase ingrains itself deeper and deeper into society's language and culture.
The History
Every giant starts off small, and for every successful business, there's a humble beginning. In that regard, El Palacio de Hierro is no different. Considered today to be Mexico's most reputable and prestigious department store, its story begins in 1864 in the midst of a major political and economic change. French entrepreneurs Joseph Tron and Joseph Léautaud opened a small shop in downtown Mexico City's now historic Zocalo Square, selling French imported items such as fabric, clothing and soap.
The timing couldn't have been more perfect. When the French occupation ended three years after the store opened, the demand for European goods shot up and the store was expanded. Upon the store's success a new and bigger building was planned, this time with a grander vision. Léautaud and Tron took a trip to France to meet the famous Eiffel Tower architect Gustave Eiffel, who also designed the first Le Bon Marché. During their travels, they also visited the Parisian greats – Printemps, Galeries Lafayette, La Samaritaine and also Harrods in London. The Art Deco and Art Nouveau ideas seen abroad became the inspiration for the new location.
In 1891, a beautiful five-story building made of cast iron ("hierro" in Spanish) was erected near its original location. The 7,000 square-foot building – a third of its current size – was a sight to see. Mexico's first department store was a spectacle during its construction. It was mammoth in size, shaped in a perfect square with thin iron columns. Passersby remarked at the enormity of it, saying it was like a palace made of iron, and so the name stuck and later it was officially changed to El Palacio de Hierro – The Iron Palace.
It was the tallest building in the city at the time of its opening, and El Palacio de Hierro, with its long wooden and glass counters, was as glamorous on the inside as it was on the outside. Housing a vast amount of merchandise, and even a post office inside, the store portrayed an image of high customer service unmatched by any other retailer. The building existed through the Mexican Revolutionary War and World War I, but was catastrophically burned in an electrical fire that started with a short circuit in one of its windows.
Not ones to give up, the savvy owners set up their merchandise in the buildings across the street and continued to sell from there as they rebuilt their store. The building that reopened in 1921 is the building we see today. The structure was designed by Architect Paul Dubois and the stained glass portions were designed by Jacques Gruber. With the economy on the rise, Tron and Léautaud took advantage of the situation and reopened with a larger and more luxurious store than before. They brought in more expensive clothing and added more lavish products such as jewelry, watches and glassware.
In 1958, El Palacio de Hierro opened a second location in the city's Roma district with a contemporary look vastly different from the other building. With a white façade, the top of the building was a pattern of several large light cubes, while the whole lower-level floor had floor-to-ceiling windows wrapping around the store for all to see the merchandise inside. There was a large parking lot and a new service created for delivering people's packages to them so they wouldn't have to carry them to the car. That same year, the business launched a store credit card program, the first of its kind in Mexico.
A New Boss in Town
By 1963, El Palacio de Hierro was sold to the banking and mining tycoon Raul Baillères. The senior Baillères had been convinced by his son Alberto that this would be an ideal business move. He was right, and now Alberto Baillères is the second-richest man in Mexico, worth $18.2 billion, according to Forbes.