Eva Longoria, Sheba Introduce New Campaign Celebrating The Many Passions Of Cat Lovers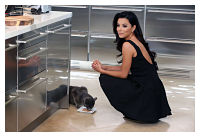 March 7, 2013 – The Sheba brand announced today its launch of the "Sheba. Feed your passion." integrated campaign featuring actress, philanthropist and cat lover Eva Longoria.
"I am excited to partner with Sheba for the launch of the 'feed your passion' campaign and help celebrate the many passions of cat lovers," said Eva Longoria. "My fans know that I am passionate about things like acting, charitable giving, cooking and dancing, but taking part in this campaign has helped me showcase my passion for pets – especially cats."
The multi-channel campaign introduces the premium cat food brand to the U.S. marketplace and leverages a fully-integrated marketing approach that features Longoria in TV, print and digital advertising, in-store and consumer promotions, public relations and social media channels.
"We are proud to launch Sheba brand in the U.S., providing cat owners the opportunity to 'feed the passion' they have for their cats with our premium recipes," said Tina Garcia, marketing services director for Mars Petcare. "We're also thrilled to launch the 'Sheba. Feed your passion.' campaign in partnership with Eva Longoria, who as a cat lover embodies our brand essence and the passions of our core consumer."
Sheba brand celebrates that cat lovers – like Longoria – have many passions, one being their cat. When you live out your many passions – from cooking a fresh, flavorful meal for family to working to spruce up a new space (which includes a special spot for feline friends), enjoying your passions make every day more delectable.
Today, with Longoria's support, the brand launches the "Sheba. Feed your passion." contest, providing the opportunity for those with feline friends to enter for a chance to be one of three people to win up to $5,000.00 to help feed one of their many passions. Through May 31, 2013 cat lovers can visit www.Sheba.com/FeedYourPassion to enter the contest by sharing a simple picture of their cat along with a caption that shares how they would celebrate their ultimate passion in a big way. Exclusive video content featuring Longoria discussing her favorite passions can also be viewed on the contest website.