Fashion Accessories First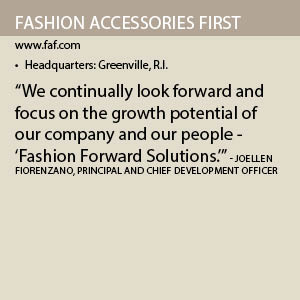 The company grew its client base further with the 2008 acquisition of Catherine Stein Designs, a New York City-based jewelry design house. Noel Bentley, the vice president of sales and Catherine Stein Designs, says that the division largely serves specialty and department stores. FAF leverages Catherine Stein's "Better by Design" philosophy throughout FAF's entire customer base, she adds.
Today, FAF is the primary jewelry resource for many of its largest customers. "It is the expertise in all areas of the business that we wrap around our products that makes us a go-to supplier," JoEllen Fiorenzano says. "Our systems, processes and global footprint allow us to deliver on trend quality products with the highest levels of efficiency and value to our customers. The same values on which our company was founded serve as the standards by which we conduct our business, as well as ourselves."
Passion for Innovation
FAF maintains a passion for innovation throughout its operations, which JoEllen Fiorenzano credits to her husband, Arthur. "Throughout the history of the company, he has been the one who has continued to challenge us to be innovative and to think differently," she says.
Customers appreciate this unique FAF culture and way of doing business, which has also been embraced by FAF's team members. "The team enjoys the constant newness of being in the fashion business," Fiorenzano says. "It's really about having our team constantly thinking outside the box."
FAF views itself as being in the customer's solutions business. This helps separate FAF from its competitors. According to Fiorenzano, "FAF begins by understanding what each customer's overall strategy and goals are for their company as well as their fashion jewelry departments. We then work closely with our cross-functional teams to develop end-to-end solutions to help customers achieve their goals."
FAF's cross-functional teams have been very important for ensuring consistently high levels of customer satisfaction. They understand that FAF's success is tied firmly to the success of its customers.
"The jewelry is important but it is just one part of the total solution that each customer expects," Bentley says. "We are constantly evaluated by our customers on a broad range of metrics. Not only do we have to make sure that the product meets the customer expectations and that the execution of each project is flawless but we have to partner with our customers to ensure that the product performs well at the stores."
The Right People
FAF is selective when adding to its staff. "We hire talented people who are passionate about fashion jewelry and getting results," Fiorenzano says. "We encourage teamwork, a problem-solving spirit and making decisions that add value for our customers."
The company's management philosophy helps attract great people. "We give team members the autonomy to make important decisions. We set the strategy for opportunities, and then rely on the team to make it happen," Bentley says. "We work cross functionally and empower them to handle the day-to-day decisions. Hard work, a passion for innovation and the ability to get results creates opportunity for individuals at FAF."
"FAF is a hard-working environment and the pace is fast," Fiorenzano admits. "But the people that work for our company know that we really care about them."
This approach has worked well for FAF. "Seventy percent of our employees have been here over five years," she says, noting that nearly half have over a decade with the company.
Fashion Forward
FAF strives to keep its finger on the pulse of the newest looks and ideas and one step ahead of the competition and its customers. It accomplishes this in multiple ways, Fiorenzano says.
"Every day, we're constantly looking at social media and trend resources," she says. "We collaborate with our trend partners in Europe to stay ahead of emerging trends."
The firm also looks for trend insights in areas outside of its category such as lifestyle products. "What is happening around the world influences what our customers are looking for," she says. "We need to be able to read results and deliver items quickly to customers."
Positioned to Grow
FAF takes pride in its reputation as an industry-leading supplier for every major retail segment of fashion jewelry, Fiorenzano says. But the company plans to continue to innovate and reposition itself for future growth. "We continually look forward and focus on the growth potential of our company and our people.
"That's something Noel and I are always focused on," she says. "We are always looking for additional opportunities in new categories and new business segments."
Bentley agrees. "Retailers are looking for innovative companies that can bring them a wider range of categories, noting that the retailers also have to do more with less," she says.
"We always make sure we're aligning ourselves with the right retail partners to ensure we work well together," she continues. "The best results come from great partnerships."
Giving Back
FAF has a socially responsible culture that encourages personal responsibility within the company and the community. With its FAF Cares initiative the company not only sets the example for community service but also supports the efforts of individual employees who take on social service obligations.