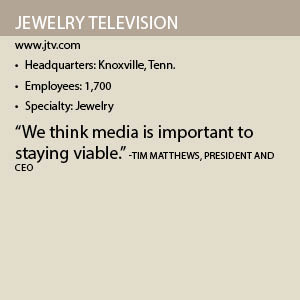 Staying Viable
The live show is just the latest example of how JTV, one of the largest jewelry sellers in the world, is expanding its audience to new media. "While many people watch us on television, we're not really to be thought of as a television company," Matthews says. "We're a content company that creates exciting television while we're selling our products."
JTV's live broadcasts already reach 86 million American households – an impressive number itself, but one that does not even include the company's online streaming audience, mobile website and app users, as well as its current Roku live stream. With modern technology and the use of smart devices, JTV can reach viewers and customers 24/7 even if they are away from a television.
It used to be that customers would call into a show and ask the host to rotate a piece of jewelry to see it from a different angle. That kind of live interaction subsided over the years as JTV grew, but it is now being replicated in a more modern format.
Chat rooms allow customers to interact with each other and JTV hosts in real time during over-the-air programs or special web-only shows. "What we're doing is restoring the original roots of that webcast in our online forum," Matthews says.
Those streaming options are increasingly important as the number of traditional television viewers diminishes. Research from Gfk MRI's Survey of the American Consumer earlier this year found that 30 percent of millennials are cord cutters – meaning they do not pay for television service. Instead, millennials spend 65 percent of their viewing time streaming to a TV set or other device, Gfk MRI reported.
For a company that built its legacy on 24/7 television broadcasts, JTV has had to adapt to stay in front of its customers' eyes. The company streams its live broadcasts on Roku and other popular devices and has its own YouTube channel, allowing it to travel the world alongside its viewers. "We expect as television evolves so will we," Matthews says. "We think media is important to staying viable."
Although there are competing delivery methods, Matthews says JTV has easily been able to adapt its television programing to streaming audiences. "The ability to educate, show a product, demonstrate its features and benefits … all fall within our area of expertise," he explains. "It's fundamentally different than selling something on the web."
Staying ahead of those changing technologies and viewer habits is part of the challenge for content creators. JTV is already thinking about how the next generation of video compression codecs and handheld devices will alter programing and e-commerce. To prepare for that unknown, the company has a dedicated team that works in a skunk works capacity to brainstorm ways of taking advantage of emerging technology, such as virtual reality and 4K broadcasts.
Embrace the New
Embracing new technologies is a mindset that Matthews instilled in the company since becoming CEO. Matthews describes himself as an electronics-minded individual. In the '90s, he owned a production company that purchased the seventh serial number among Panasonic's first line of HD cameras.
It's no surprise that his interest has permeated and benefited JTV. "It excites me to stay on the leading-edge and know what's happening from a technological point of view," Matthews says. "I believe if we do that we can also stay ahead of the demographic shifts that are impacting retail."
Matthews believes it can be dangerous for a company to put an inordinate focus on any one channel. He's watched as competitors panic over the changing media landscape and flock to new channels as they leave their traditional audience behind. Oftentimes, companies that follow a reactionary path end up alienating their longtime customers and struggle to grow a new base.
JTV considers how each channel fits into its larger strategy. "We think to ourselves, 'What's a channel really good at doing, how does it complement other channels and how can they work together to improve customer engagement and, as a result, grow the entire pie?'" Matthews says.
The goal is not to force an app or streaming service on viewers, but to let customers tell JTV when and where they want to shop. "It's giving them the best experience in each channel," Matthews says.
Weathering the Great Recession
Matthews came to JTV as an investor in 1996, three years after the company began broadcasting. It wasn't until 2007 that he had a formal role with the company, when he took a consulting job that lasted about a year. At the time, Matthews was still practicing law on a full-time basis in Cincinnati and JTV asked him to help develop its technology systems and be part of a few other projects going on at the company.
JTV was at a critical juncture at the time Matthews joined the company. By late 2007, JTV was noticing a small downward trend in sales volume. The company had expanded rapidly in the decade before, experiencing 35 percent compounded annual growth in sales. What was a $3 million business in the mid-'90s had rocketed to 100 times that size by the mid-2000s. So even a small decline in sales during the holiday season raised eyebrows. "That was obviously a very clear indication that something was changing in the economy," Matthews says.
The dip ended up being a precursor to the economic downturn to come. "We were like a canary in a coal mine as far as the recession was concerned," Matthews says.
When the economy sours, people eliminate discretionary spending. Jewelry is a luxury item, so when salaries stagnated and mortgage payments were missed customers did not simply decrease their jewelry purchases, but cut them completely. Those kinds of budget decisions from customers translated into a 30 percent drop in business for JTV in only 12 months.
It was clear new leadership was needed to guide JTV through the looming difficult period for retail. As a consultant, Matthews brought a background in computer science, web development and e-commerce to the company, but he also had experience in corporate finance and banking from his full-time job as an attorney.
Those were all skills JTV needed and Matthews' time as a consultant ended up serving as an audition. In April of 2008, he became CEO and president of the company and set out to stabilize the business in what became a very difficult market situation.
The positive part of being a business that serves as an early indicator of an economic downturn is that it gave JTV time to prepare. "We saw what was coming and quickly initiated a comprehensive financial engineering effort to avoid a financial collapse," Matthews says. The company restructured its financials, eliminated hundreds of jobs and altered its own discretionary spending to align its expenses with revenue.
The changes were difficult, but they preserved the company during the most significant economic downturn since the Great Depression and allowed JTV to return to profitability within 10 months. "We exercised our skill in financial engineering to do the things we had to do across all areas of our business," Matthews explains.
Following the restructuring, JTV's second goal was to strengthen its balance sheet by bringing in more diverse revenue. The company began considering opportunities and in 2010 it found a significant new investor in Gems TV, a Singapore-based shopping network. The investment helped to further stabilize JTV from a financial perspective and set the stage for the company to resume its once-accelerated growth.
Maintaining Affordability
JTV's management during the Great Recession gave the company a solid financial foundation as the economy began to recover, but the retail market itself was in the midst of its own transition. JTV's 24/7 television network was the most direct way to reach consumers when it started in 1993, but shopping habits had evolved drastically by 2010.
Online shopping was becoming a larger part of the company's business and customers coming out of the recession were more value conscious. JTV needed to implement new technologies that supported those trends if it was going to once again grow. The company focused on three areas: warehouse automation, a gold exchange program and a new consumer payment plan.
The consumer payment plan directly addressed the affordability of JTV's gemstones and jewelry. One of the problems during the recession was that when money became tight, families completely nixed luxury items from their budgets. Someone who might have spent $100 a month on jewelry went to $0 instead of finding a smaller amount they could afford.
JTV developed a new in-house consumer-financing plan to address that kind of drop off while also making more expensive purchases palatable for a wider range of incomes. An item that sells for $30 on air can now be purchased for $10 up front with the difference stretched out into payment installments over time. The same holds true for JTV's more expensive items, making it easier for consumers to spread out the cost to fit their budgets.
The way JTV conducts business also helps to make its jewelry affordable. For those who can't justify an $80,000 diamond-studded tennis bracelet, the company offers synthetic stones, such as moissanite, that offer all of the flash at a far more modest price. It also purchases directly from gem producers, pearl farmers and jewelry artisans to keep prices low.
"Because we're committed to bringing extraordinary value to the customer, that's a great benefit," Matthews says of buying direct. "Customers that would not be able to afford the price of a piece at a jewelry store could find a similar item for half or a fifth of what it would cost somewhere else."
All-in on Automation
As part of that desire to pass savings on to customers, JTV realized it could operate more efficiently if all of its teams were under one roof. The company consolidated its real estate and closed several facilities that were scattered around Knoxville in favor of a three-phase expansion to its corporate headquarters to house all of its domestic operations. "We built a corporate campus from what had been a hodge-podge of buildings around town," Matthews says.
The expanded corporate campus now includes JTV's television studios, training center, accounting department, merchandising team and call center. It even has recreational facilities such as a gymnasium, track and volleyball court, but most significantly, JTV's warehouse, a fully automated, modern facility designed to move shipments in an extremely proficient manner.
The process of automating the warehouse began four years ago when JTV implemented techniques that dramatically improved its pick rates in a traditional setup. The bigger change occurred last year when the warehouse underwent phase two of automation.
JTV abandoned traditional picking in favor of an automated carousel built by SSI Schaefer. The carousel took a year to design and install and required JTV to construct a new warehouse around the system. "This fulfillment operation is literally best-in-class in the jewelry business," Matthews boasts. "I don't know of anyone who does it better than what we do."
The automated carousel went into operation last September and immediately made a difference in JTV's order fulfillment. In past holiday seasons, the setup of the warehouse operation required JTV to pay pickers overtime to keep pace with the heightened shopping demand, which could reach as many as 50,000 packages daily. The automated system was much quicker. "This Christmas, we had many days in which we fully picked all of our product by lunchtime," Matthews says.
The greater efficiency of the automated warehouse meant fewer people were needed to pick products from inventory. Before the first phase of automation in 2013, JTV employed 200 pickers. "From this system, four people can pick all of our product in the course of a day," Matthews notes.
But having already gone through widespread layoffs in 2008 during the recession, Matthews was not eager to see more JTV employees lose their jobs. "I vowed to myself that if it were ever under my control I would never have a reduction in force," he says. Because he knew automation was coming, JTV phased out those picking roles over several years, reassigning some workers to new positions and relying on natural turnover to reduce its warehouse staff.
Global Presence
The Knoxville corporate campus is home to about 1,500 of JTV's 1,700 worldwide employees. The company also has offices in Bangkok, Hong Kong, Jaipur and Mumbai, India. Jaipur is known as the gemstone capital of the world and is home to Johri Bazaar, a legendary gem market.
Likewise, Mumbai's SPEEZ district is home to many jewelry manufacturers. "We have people embedded in those factories doing quality control, making sure that jewelry meets our standards and American standards so we don't have to send it back," Matthews says.
Although its foreign operations are centered in Asia, JTV purchases gemstones and jewelry from all over the world – emeralds from Columbia, gems from Madagascar and Blue John minerals from the United Kingdom. Matthews says the only continent the company does not source from is Antarctica. The company employs gemologists who understand the science of gemstones and can inspect materials for quality.
JTV's global presence requires a significant amount of traveling for Matthews. He's visited the black opal mines of eastern Australia and seen the quarries in Jaipur. Experiencing those locations has given him a greater appreciation for how culture influences jewelry, such as designs from Jaipur that take inspiration from the ancient fort walls around the city. "Just learning about the different cultures and how they think is really fascinating," he says.
The history and culture of each stone or piece of jewelry are part of the appeal to buyers and JTV makes sure to include those stories during its programs. In that way, JTV's programs are as much about jewelry education and entertainment as they are selling products. The company embraces that aspect of its viewership and even offers a show called Jewel School that teaches viewers to make their own jewelry.
Omnichannel Growth
JTV's focus on creating engaging and fun programing in an omnichannel approach has helped it reach across demographics. The typical customer is a middle-aged female shopping for herself, but JTV sells all the way down to 18 year olds.
Matthews describes the market as a U-curve. Customers in their 20s tend to spend more because they are buying an engagement ring or want a stylish piece of jewelry for when they go out. By their 30s, customers are paying a mortgage, buying a car or funding their children's educations. All that responsibility means consumers focus less on themselves so they buy less jewelry as a result – only to pick it back up once they get a little older, the kids move out and they have more discretionary spending.
"By the time they become interested in fine jewelry, we're getting them engaged," Matthews says. "Our customers tell us it was wonderful to discover JTV later in life because earlier in life they couldn't have bought anything."
Three years ago, the average JTV customer made eight purchases each year. That number has since risen to 10 purchases annually. Matthews credits that improvement in customer retention to the impact of JTV's investment in content and its omnichannel strategy.
TV broadcasts are demonstrative in nature, but hosts often direct viewers to additional information on www.jtv.com. Those efforts have resulted in a high rate of engagement. In 2016, a SimilarWeb survey identified jtv.com as No. 1 among e-retailers for average visit duration.
JTV's ability to reach its customers wherever they are has returned the company to the rapid growth levels it experienced before the recession. JTV reported sales growth of 14 percent in 2016, far higher than the 3.4 percent sales growth for the entire retail industry projected by the National Retail Federation. Much of JTV's success has come through those omnichannel offerings. The company reported mobile visits and mobile sales increased by more than 30 percent in 2016.
For all the company's recent success, Matthews understands jewelry is still an indulgence and JTV remains susceptible to economic downtowns and market pressures. "We are very sensitive to macroeconomic factors such as gas or gold and general employment numbers," he says. "Any risk in the economy is a risk we have to face as well."
Among those risks is the talk around import taxes designed to protect American manufacturers and suppliers. "We're relying on foreign supply for exotic gems and any border tax would hurt our business and customers," Matthews explains, adding that the entire $70 billion fine jewelry industry would be hurt by such a policy. "It's crazy to think that it would benefit Americans to have a border tax on anything we imported. All you would be doing by taxing those imports would be raising prices."
Keeping borders open is critical to JTV's ability to search the world and find jewelry made by Israeli craftsmen or Bali artisans. "We'll keep looking for things like that that are unique and unusual," Matthews says. "Our customers tend to like things you can't find at a traditional jewelry store."