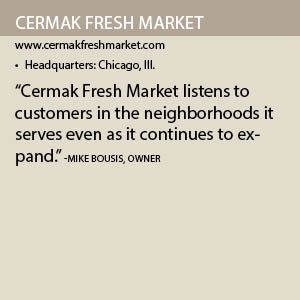 And by taking that simple step, there are possibilities for more sales down the road. "Eventually, we add items to complement that first product," Bousis says, "and vendors eventually start bringing us ideas as well."
Fresh Start
In 1986, Greek immigrants Dimitrios Bousis and his late partner, Pantelis Tzotzilis, dreamed of opening a grocery store that would offer their customers the freshest produce at the most affordable prices. Their first store was only 2,500 square feet and was called "Central Park Produce," named for the street it was on.
The store served the Puerto Rican and Mexican communities in Chicago's Humboldt Park neighborhood. Though the store was small, the partners used it as a learning experience and opened a second store in 1993, "Cermak Produce" on Cermak road and Cicero Avenue. Though primarily a produce-driven store, fresh meat and poultry sections were added as well.
The second store was hugely successful. Just as important, as time went on, more locations were opened in neighborhoods populated with other ethnic groups, which led to an expansion of offerings. Soon, Cermak Fresh Market opened four more stores, but there was also the addition of a complete dairy section, as well as a full-service deli counter, bakery and expanded grocery section in each new store and, in time, each existing store.
Despite the popular demand, the partners adhered to a philosophy that holds true today for Mike Bousis. "I try and go into neighborhoods that are growing and expanding," Bousis notes. "For a lot of the fast-growing neighborhoods, customers have to drive a long way for groceries. So we aim to fill that need."
The formula works with Cermak Fresh Market stores strategically located in ethnic neighborhoods where larger chains have not yet established a foothold. It also has led to unique food offerings as the stores cater to nationalities that include Mexican, Puerto Rican, Greek, Italian, Polish, Russian and other European and Latin American cultures.
Bousis says catering to people from various ethnicities has given his stores an advantage. However, "after being here five years or so, people start to become Americanized," Bousis says. "So the stores themselves eventually evolve and become more of a melting pot." As the neighborhoods evolve, so does Cermak Fresh Market, enabling it to maintain its customers as their families' tastes and needs change over time.
Despite the variance in the stores' offerings, it all starts with fresh produce. "We buy our produce on the market every morning," Bousis says, referring to the Chicago wholesale produce market. "We keep it fresh and continue to rotate the produce as well."
And while maintaining a fresh produce section sounds like a simple enough task, there is actually quite a lot to it. In part, it entails being at the wholesale market before the sun comes up on a daily basis and knowing how to pick the right product at the right time. But for Bousis, it is a labor of love because that's what he started out doing. "My uncle once said, 'If you can merchandise a produce department, you can merchandise anything,'" he recalls. "Displays come second nature to me; that's how I was taught."
Bousis notes there is an art to displaying produce. "I love to see the different colors and sizes, how it looks and what goes with what," Bousis says. "Once I start laying it out, I love to see that beautiful flow."
Unique Experience
Bousis' artistic approach to setting up produce displays goes a long way in explaining what makes Cermak Fresh Market such a unique option for shoppers. "It takes a lot of effort in laying out a store," Bousis says. "Unfortunately with a lot of the corporate stores, no one has really worked at the store level and they don't know how to do it."
Needless to say, Bousis is a huge believer in working on the store floor before assuming an executive position. "You have to be taught in the trenches," he insists. "If you haven't done something, how can you tell someone else how to do it?"
Bousis' approach to arranging produce parallels his theories on giving customers a unique shopping experience. As the grocery business continues to evolve, Bousis makes it a critical point to make coming to Cermak Fresh Market a pleasurable experience. "I want the customer to have a great time," he notes. "And that means anything from making sure the stores are very clean to playing good music for them while they shop."
Because the stores cater to the different ethnic neighborhoods where they are located, each has a unique feel. "I will never have you walk into a store that feels the same as another one," Bousis says. That philosophy becomes more important as Cermak Fresh Market has grown in popularity, but Bousis works hard to maintain the feel of a local neighborhood grocer.
"I want to stay as much as we are, the way we are," Bousis notes. "I don't want too much of a corporate feel." That means giving his store managers the freedom to stock the stores according to local customers' needs. "I tell my managers to merchandise their stores any way they see fit."
Precision Pricing
Bousis is traditional in his approach to customer service, but he is not averse to using technology to improve the way the stores function. For example, Cermak Fresh Market has begun using digital shelf tags to ensure price accuracy. "Whatever the price on the shelf is, that is the price scanned at the register," Bousis says.
Using such technology virtually guarantees pricing integrity, and it also frees up the store's workforce to concentrate more on customer service and experience. "It saves a lot of time and energy not having to price items individually," Bousis notes. And as this technology has evolved, it has given Bousis an opportunity to see what his customers' buying habits are, so he knows whether his stores are merchandised and priced correctly.
Steady Growth
Though he has seen his stores grow in popularity, Bousis maintains a very disciplined approach when it comes to deciding where or when it's time to open up a new location. One rule he adheres to is to never open a new store until the most recently opened store is fully up and running and making money.
That has been the case with his most recent store, just a few blocks from Miller Park in Milwaukee. The 60,000-square-foot store serves many ethnicities, including Indian, Middle Eastern, Asian and Polish. As a result, a second store will open in Milwaukee later in 2017.
"I would like to see us stay within the Midwest," Bousis states. "Ultimately, I would like to get to 50 stores, either through natural growth or buying independents."
Another valuable lesson his uncle and late co-founder of the business, Pantelis Tzotzolis, gave him many years ago also resonates to this day. "I am thankful for him to teach me to never be afraid to open up a store," Bousis recalls. And as stores continue to open, one thing will remain consistent. "We think of ourselves as a market open for everybody," Bousis says. "Wherever you're from, you should be able to come to our stores and find what you're looking for."