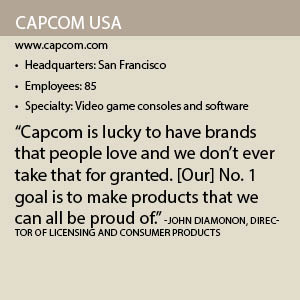 "Our major brands traditionally have game releases every three to five years," he explains. "Licensing allows us to fill in these gaps with programs that are targeted to both the core audience where it keeps the brand relevant, and to a younger demographic where it ensures these brands remain evergreen. Licensing also allows us to amplify our major game launch efforts by having products widely available to increase our awareness through retail shelf space and multimedia initiatives."
Diamonon cites the example of Capcom's successful recent implementation of retail programs to support the launches of Street Fighter V and Resident Evil 7. He says the effort helps underscore that both games are "true powerhouse brands that transcend gaming. We have a full line of licensed products for our main brands across most categories. From hard goods to multimedia programs, we're very lucky to have brands that resonate in a variety of ways."
Playing Together
Video game brands are still relatively small in terms of their presence in national retail programs, according to Diamonon. But they have thrived in licensing categories that target the core audience through publications, high-end specialty toys, anime or apparel.
"Video games have also had prominence in movies with varying degrees of success," he says. "Capcom has been fortunate to have been associated with the most successful video game movie franchise ever, Resident Evil. With six movie releases over a span of 15 years, the franchise has just topped the $1 billion global box office mark."
The San Francisco, Calif.-based company attributes its success to many of its long-term partners, including UDON Entertainment, Kotobukiya, Razer, PDP, BenQ, HyperX, Prima/Brady, Sumthing Else and Thinkgeek.
"They have been instrumental in continuing to engage our primary targets, which allows us to steadily expand our brands," Diamonon says. "Because of that we are now starting to see our games gain traction with mainstream worldwide programs. The increasing popularity of low-priced vinyl collectables in the retail space has given our brands the opportunity to reach a much wider audience. Our brands resonate in this category because of the breadth of our iconic characters, allowing our partners to develop a complete and diverse product line."
Some of Capcom's bigger long-term partners in this space include Funko, Loot Crate, Loyal Subjects, Just Toys, Cryptozoic and Kidrobot. "In high-end toys and statues, we partner with Bandai, Hot Toys, NECA, Pop Culture and Venture Classics," Diamonon says. "For our mainstream toy lines, we are fortunate to have partnerships with Hasbro, Mattel and Jakks. The multimedia partners for our main brands include Sony Pictures and Fox Studios, in addition to other partners that we haven't announced yet."
In addition, e-sports is an emerging licensing category for the company that shows "enormous" potential, Diamonon notes. "It's a vehicle that is instrumental in reaching a mainstream audience for our competitive gaming titles," he explains. "We currently work with ESPN, Turner Sports and NBC Sports, who are all focused on growing their e-sports initiatives."
Diamonon notes Capcom maintains successful long-term relationships with its licensing partners because it allows them to be creative. "We allow them to carve out truly unique offerings in their respective categories that they can get behind and feel passionate about," he says. "A highly engaged partner is vital to ensure short- and long-term success of our shared licensing programs. We have them involved early on during game development to take advantage of the marketing initiatives of major game releases. This combined effort and partnership leads to compelling and timely product launches."
Staying True
Capcom is a house of iconic, multi-faceted entertainment brands that are ingrained in pop culture. "We are currently taking advantage of the reemergence of late 1980s and early 1990s intellectual property (IP)," Diamonon says. "Those creating content as well as those that are making purchasing decisions at the corporate level are at the age where Street Fighter, Resident Evil, Mega Man and other Capcom brands were popular during their childhood. It's much easier now, than say eight years ago, to pitch these brands because not only do they know them now, they were also a positive part of their pre-adult years."
One of Capcom's biggest challenges in licensing is ensuring its products remain authentic. "We want our licensed products to maintain the DNA of our brands, while also being flexible to alternative ways to portray them," Diamonon explains. "It's a delicate balance. There's a reason why our fans love our brands and we need to maintain those attributes that have kept them popular for so long. We've learned that if we stray too far from that DNA, we could negatively affect the success of our programs and our core fans will let us know.
"We keep our core fans in mind first, because they are our biggest advocates," Diamonon continues. "If they think our stuff is cool, they'll evangelize it. It's this fan-focused strategy that is key to our success. Capcom is lucky to have brands that people love and we don't ever take that for granted. We know because we are fans ourselves and our No. 1 goal is to make products that we can all be proud of."