FMH Conveyors is centralizing its three U.S. manufacturing operations into one new location
in Jonesboro, Ark., to gain synergies in manufacturing and engineering.
By Russ Gager
To a large extent, brick-and-mortar retailing is largely about distribution – getting the right products to the end consumers. Helping with this point of the distribution process – getting products into trucks for delivery – is FMH Conveyors. "Our history and our core business is truck loading and unloading," President Kurt Huelsman declares. "The vast majority of our product is built simply around the connection between a building and a trailer and moving product in either direction – unloading or loading.
Big-box retail is a major market for FMH Conveyors. It consists of unloading products from manufacturers and distribution centers, and then moving products from the distribution center into trucks bound for the stores. At the store, product is unloaded into the back rooms and then onto the floor for sale. FMH Conveyors has a long history of delivering solutions for fluid or loose truck loading and unloading applications.
With fluid or loose loading, every square inch of space in a trailer is filled with products instead of being shrink-wrapped on pallets, which costs money and wastes space. Product packaging has evolved over the past 20 to 30 years to become substantial enough that products can be stacked on top of each other without any additional support.
FMH Conveyors designs, sells and services products throughout the United States, Canada, Latin America and Europe. Among the company's well-known brands are Nestaflex, BestFlex, BestReach and MaxxReach. Additional markets for FMH Conveyors is tire handling and wine/spirits, the handling of which is highly specialized.
Ecommerce Market
Loading trucks that are handling ecommerce orders is also a big market for FMH Conveyors. In 2015, FMH Conveyors launched BestConnect conveyors, which is a mobile, modular system of conveyors that can be reconnected and reconfigured easily. It is ideal for startup operations during seasonal peaks to increase capacity.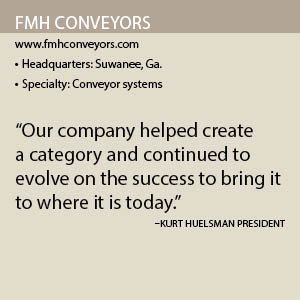 "There has been a need for new users and new entrants in spaces like ecommerce that would like to get some of the benefits and productivity that a conveyor system can do but don't have the scale or the capital structure to make a firm investment in a complete warehouse management system," Huelsman says. "BestConnect is an opportunity to have a portable and modular system that is the stepping stone into what customers may want to do in a more fixed basis down the road. It allows them to get some of the benefits of having an automated conveyor system within their facility that will help them be more productive in distribution so they can focus their time and resources on their core business of increasing volume."
Such systems also can be used during busy periods such as the holiday season when business might increase tenfold and then drop back afterwards. A mobile, modular system such as BestConnect can help out during such periods. BestConnect rigid reconfigurable conveyors can be combined with any NestaFlex or BestFlex products for versatile system solutions.
New Facility
FMH Conveyors is consolidating its three manufacturing facilities currently located in Suwanee, Ga., Jonesboro, Ark., and Hampton, Va., into one new 195,000-square-foot facility in Jonesboro that will combine the operations of all three locations. Due for completion in November, the facility will include manufacturing and office space and represent an investment of approximately $12.5 million.
"The layout and configuration will offer better productivity and material flow," Huelsman says. "We are a built-to-order business, so the demand comes in different shapes and sizes over a period of time. Being in one location will allow us to be flexible with our production team and handle the work that we have in front of us. We will be able to manage the peaks and valleys of demand better in one location than across three."
That also will mean consolidating each location's R&D efforts. "Combining the engineering team will allow us to put more effort into future design and development," Huelsman declares. FMH Conveyors also is installing a new enterprise resource planning system at its new location that will enable it to better serve its customers as a supplier.
FMH Care
A portion of FMH Conveyors business that is growing is its FMH Care program. "FMH Care is the new brand name for what is becoming an increasingly more important part of our business that is primarily centered around the service segment. The program includes installation and preventive maintenance services, as well as on-call repair," Huelsman says. "We wanted to invest more into making sure that our equipment is installed, connected to adjacent equipment, and also maintained properly."
Although FMH Cares is growing substantially, the major portion of FMH's business is still the design and manufacturing of conveyors. "We are very excited about the investments we're making in the new operation, putting together the right infrastructure and the right people. We are very committed to our customers and continuing to develop new products and solutions for the truck-loading and unloading conveyor marketplace," Huelsman says.
He attributes the company's success to its innovation. "I think the company's historic success is based on the individual ingenuity and persistence of each location during their development and growth in the market," he concludes. Our company helped create a category and continued to evolve on the success to bring it to where it is today. Now, together, that strength will carry us forward for decades to come."