Former Miss Universe Zuleyka Rivera, Huggies Put New & Improved Products to the Test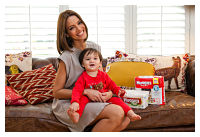 June 12, 2013 – Television actress and former Miss Universe Zuleyka Rivera has taken on all sorts of worldly adventures but none compares to her latest – motherhood. As a new mom to a one-year-old son Sebastian, she is experiencing firsthand the exciting challenges and triumphs of parenting and has teamed up with Huggies Brand to try out their new and improved diapers and wipes.
"This past year has been filled with some amazing moments, like the birth of my son, Sebastian – and I can't get enough of him," Rivera said. "Parenting has been full of surprises – the good, the bad and the messy. That's why I rely on Huggies diapers and wipes to help us pass any test and keep Sebastian clean and dry."
Parents everywhere can get a sneak peek into Zuleyka and Sebastian's everyday routines through a webisode series premiering today on the Huggies Latino Facebook page. The videos offer parenting tips and show real life family moments including cooking with grandma, rehearsing for her upcoming novella and even teaching her son the rhythm of Latin dancing.