RetailNext 4.0 In-store Analytics Platform Now Available for Brick-and-Mortar Retailers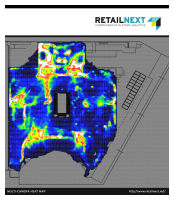 June 12, 2013 – RetailNext Inc. today announced the availability of version 4.0 of its market-leading in-store analytics platform. RetailNext 4.0 innovations – including gender demographics, employee detection and full-floor heat maps – help retailers more effectively test and measure activity within stores, increase sales, reduce theft, and improve the shopping experience.
RetailNext made the announcement from the NRF Loss Prevention Conference where the company is exhibiting (Booth #727), moderating a distinguished panel of retailers discussing "How Linking In-Store Analytics to LP Data Uncovered Lost Profit Opportunities," and demonstrating the myriad advancements in RetailNext 4.0 that empower retail executives to collect and analyze additional data more quickly and effectively. These groundbreaking innovations include:
More detailed detection and analytics of in-store traffic in RetailNext 4.0, offering additional insights for retailers to optimize their stores.
Male vs. female demographics – New gender detection capability categorizes store visitors with very high accuracy, making this critical piece of demographic data available for analysis.
Employee detection – By assigning their employees Wi-Fi-based identification tags to carry while working, retailers can obtain separate counts of shopper and employee traffic, enabling deeper understanding of what happens in stores.
New capabilities for presenting information make it easier for retailers to discover the insights they can use to improve the bottom line.
Multi-camera heat maps – Combine views from contiguous cameras to create a single "kinetic" heat map for an entire sales floor, offering a true view of activity throughout the store.
Full mobile video support – The ability to view real-time or stored video from iOS and Android devices, offering access at anytime from anywhere.
Web dashboard improvements – A variety of new enhancements improve usability and increase the available metrics and options for visualization of data.
New Loss Prevention features provide easier access to video and further combat theft.
Enhanced POS exception reporting – Increased capabilities to monitor store transactions for key indicators of fraud or theft, including "Top-N" queries for the most important metrics. The new version now also supports export of selected lists of POS transactions along with associated video events.
Legacy DVR integration – Enables retrieval and analysis of live and recorded video on popular DVR and NVR systems, unlocking legacy video from existing infrastructure without requiring additional capital expenditure.
Video interface and control enhancements – LP and other operations managers benefit from a cross-platform video player that works instantly on all Flash-compatible systems with no installation required, the ability to export multiple synched camera views in a single multi-pane video file, and video interface enhancements for greater ease of use.
"RetailNext has always offered the most comprehensive view of in-store behavior available to retailers. With version 4.0 we've expanded that level of detail through new functionality like distinguishing male and female shoppers or detecting employees when they enter or leave the store," stated George Shaw, RetailNext VP of R&D. "The new release also gives our customers easier access to the information the system is uncovering, including full support for viewing video on mobile devices and the ability to heat map shopper activity throughout an entire store in a single image. All of these capabilities empower retailers more than ever to uncover the insights they can use to improve profitability."