Stan Lee, JADS International to Create Stan Lee Signature Cologne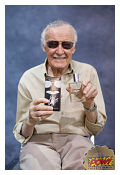 June 12, 2013 – Legendary Marvel and POW! Entertainment creator and comic icon, Stan Lee, has partnered with JADS International, LCC (JADS), a company producing fine fragrances and beauty products, to create Stan Lee Signature Cologne. To thank fans for their support over the years, each bottle of cologne comes with a personal message from Lee himself. The cologne marks the first time Lee has lent his name to a fragrance, where he also played a key role in the development of the overall product. Stan Lee Signature Cologne goes on sale today.
"Fans know me best as someone who creates superhero characters and stories for comics, movies, TV and the web, so this is a highly exciting step for me to expand into the cologne world as well," said Stan Lee, Founder of POW! Entertainment. "Not only do I want fans to look sharp like their favorite superhero and their Generalissimo here, but I thought wouldn't it be fun to offer them the chance to smell like one to… whether they have a date or a rendezvous with an ally."
Stan Lee Signature Cologne is a fresh and sophisticated fragrance for the adventurous with blends of bergamot, ginger, white pepper, basil, and violet and features layers of cedar, vetiver and musk accords.
"We're 'true believers' and deeply honored that the one and only Smilin' Stan Lee teamed-up with JADS to help produce a signature cologne reflective of his talents, creativity and contributions to the awesome world of comics and superheroes," said Andrew Levine, Chief Executive Officer of JADS. "Stan's work is legendary and holds a very special place in the hearts of people across the world. Just like Spiderman, Hulk, and Captain America, fragrance has the ability to transcend time and bring back memories. This cologne plays homage to the greatness that is Stan Lee and his legacy."