Foster Farms First Major Poultry Producer In The West To Earn Humane Certification From American Humane Association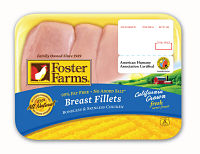 March 11, 2013 – Family-owned Foster Farms today announced that its fresh chicken products have earned humane certification from American Humane Association. The American Humane Certified (AHC) program, developed in 2000, is the nation's first independent, third-party humane certification program for farm animals. Foster Farms fresh chicken products now carry the American Humane Certified seal for easy recognition by consumers. The company announced the certification at the dedication of the new Foster Farms Poultry Education and Research Facility (PERF) at Fresno State's Jordan College of Agricultural Sciences and Technology. The facility features a fully working, American Humane Certified poultry barn modeled after a similar type found on Foster Farms' own humane certified ranches.
Beginning in 2012, all company growing facilities dedicated to fresh chicken production in California and the Pacific Northwest have implemented AHC program standards and are participating in independent, third-party audits. The audits are administered by the AHC program and its third-party auditor, Validus. The audits consist of more than 200 stringent criteria covering living conditions, diet and natural behaviors. The standards set by American Humane Association are in practice on all Foster Farms fresh chicken ranches 24 hours a day, seven days a week, 365 days a year.
"While the actual certification is a new development for us, our commitment to raising chickens humanely has always been important to our company," said Foster Farms CEO Ron Foster. "It is the right thing to do for our birds and we know that it is important to consumers. In 2008, we implemented a comprehensive animal welfare program guided by our two full-time veterinarians. Becoming an American Humane Certified producer is a genuine milestone for our company. We see it as a meaningful sign of progress and look forward to working with American Humane Association to further improve our animal welfare efforts."
"We know that consumers want more choices for humanely raised poultry," said Ira Brill, Foster Farms Director of Corporate Communications. "Our longtime commitment to the welfare of our birds has made this possible and certification provides consumers with that assurance."
A survey released today of 2,000 West Coast consumers by NSON Opinion Strategy, commissioned by Foster Farms, found that consumers want humane-certified meat and poultry products to be more widely available and, at the same time, affordable.
45 percent are very concerned about animal welfare
49 percent completely agree that they are more concerned with animal welfare and how animals are raised for food than they were five years ago
74 percent completely agree that they would like more large producers to raise animals for food in a humane way
76 percent completely agree humane-certified foods should be more widely available to consumers
80 percent completely agree humane-certified food should be more affordable for consumers
55 percent would make a personal commitment/pledge to purchase poultry that is humane certified
"By partnering with American Humane Association we are helping to ensure that more farm animals are brought under the basic protections of animal welfare," said Brill. "Foster Farms' commitment and resources along with guidance from animal welfare experts helped make certification both possible and affordable for the consumer."
"Growing numbers of people want safe, affordable, humane food choices that are in line with their values," said Dr. Robin Ganzert, President and CEO of American Humane Association. "As an organization that was founded around the issue of the humane treatment of farm animals and has for more than a century been advocating for the welfare of the vulnerable and the voiceless, we appreciate and applaud Foster Farms for joining the growing group of enlightened, forward-looking producers who are voluntarily implementing and seeking independent verification of objective, science-based standards of animal welfare. American Humane Association is dedicated to the idea that all animals – those in our homes, those in service to our country, and those raised on our farms and ranches – are entitled to humane treatment. We are encouraged to see more and more families, consumers, and producers agree and are willing to take action to achieve this worthy goal."
Founded in 1877, American Humane Association is the country's first national humane organization and the only one dedicated to protecting both children and animals. The organization's farm animal welfare certification program was the first of its kind to codify standards for the humane treatment of farm animals.
Today, the AHC program works with more than 100 major producers representing approximately 7,000 farms. Other AHC products include Stonyfield Brown Cow Yogurt, Eggland's Best cage-free eggs and Hellman's Light Mayonnaise.
The AHC program employs ethical, science-based and veterinary-backed standards validated by world-renowned animal welfare experts and advocates, such as Dr. Temple Grandin and poultry specialist Dr. Joy Mench, who serve on the organization's Scientific Advisory Committee. Program standards and audit criteria assess humane treatment, ensuring comfortable living conditions and greater accountability. Program standards are built on the internationally accepted values of the Five Freedoms, as adopted by the Royal Society for the Prevention of Cruelty to Animals:
Freedom from hunger and thirst
Freedom from discomfort
Freedom from pain, injury, disease
Freedom to express normal behaviors
Freedom from fear and distress
At Fresno State, the 16,320-square-foot, eco-friendly, power-efficient PERF includes advanced climate control and feed delivery systems replicating professional poultry production. The facility is designed to provide hands-on agricultural training and education for students in the Animal Sciences and Agricultural Education Department. Faculty and students will conduct research in the areas of poultry nutrition, animal welfare and improved environmental practices.