Kristen Thibeault wins S.Pellegrino Almost Famous Chef Competition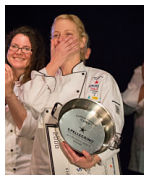 March 11, 2013 – Kristen Thibeault of Le Cordon Blue College of Culinary Arts Boston is the winner of the 11th annual S.Pellegrino Almost Famous Chef Competition. Over the weekend, she competed in multiple cooking competitions for the accolades, proving excellence at The Culinary Institute of America in Napa Valley, Calif. Thibeault outshined nine competing peers from the U.S. and Canada with her signature dish, Porcini Crusted Vegan Sweetbreads. The front-of-house judge panel included Michelin Star and James Beard Foundation award-winning chefs: Tony Mantuano of Spiaggia, Rick Moonen of RM Seafood, Michel Richard of Citronelle, Mark McEwan of One, Susur Lee of LEE Restaurant and Chef Joho of Everest.
Throughout the weekend, all finalists were in the spotlight of culinary-focused media influencers, who also served as active judges, including: Dana Cowin of Food & Wine, Betsy Andrews of Saveur, Mitchell Davis of The James Beard Foundation, Jacob Richler of Maclean's and Sophie Gayot of gayot.com.
"The culinary industry is competitive and there is not a competition of this nature that exists for students," said Chef Tony Mantuano, spokesperson and owner/chef of Spiaggia. "It is really necessary to have a competition like this for our next generation of great chefs."
As the title holder of S.Pellegrino Almost Famous Chef Competition, Thibeault receives a one-year paid apprenticeship with one of the chef judges of the finals competition along with the winnings of $13,000 for her winning signature dish. The competition has helped launch hundreds of culinary students' careers and partnered with more than 396 award-winning chefs, with more than 183 James Beard Foundation accolades.
"I can't even believe it happened with the many other talented chefs here," said Thibeault. "Now, I want to continue becoming the best chef I can be, be an amazing spokesperson and just further my culinary career."
The ten finalists contended in five different competitions throughout the three days. In addition, Thibeault won the attendees' vote in People's Choice Award, taking away $3,000. Jean-Christophe Comtois, Ecole hoteliere de la Capitale, won the Mystery Basket award and online Acqua Panna Fan Favorite Award, walking away $6,000 for his dish, Milk Veal tenderloin, Matsutake and "Tomme des Joyeux Fromagers" Flavored Polenta. Ace Gonzalez, The Culinary Institute of America – San Antonio won the $3,000 Signature Dish prize for her dish, Mole Pipian with Pork Belly.