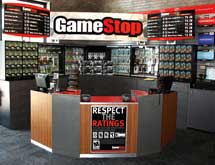 This company may already be at the top of the video game retail food chain, but it is looking for new ways to drive consumers online and tie all of its channels together. With about 6,400 stores in 17 countries and multiple e-commerce sites, GameStop is the largest video game retailer in the world. The company actually operates under three different nameplates: GameStop, EB Games, and Micromania, the top French video game retailer, which GameStop acquired in 2008. In addition to the retail and online channels, the company also publishes Game Informer in the US and internationally.
On the brick and mortar retail side, GameStop is continuing to grow. In FY 2009-10, the company intends to open an additional 440 new stores, half in the US and half in other countries. The company sees its physical storefronts as the foundation of the company, but GameStop is well aware of the trend toward more digital content. Because of that, the e-commerce and digital side of the business is becoming a larger part of GameStop's business plan.
"The key thing for us when you talk about leveraging our stores is taking the hundreds of millions of customers that go through the stores and turn those offline customers into online customers," said Curt Burgess, director of online operations.
"We realize there is a huge digital future in front of us in gaming. We've been working with digital products since 2006, downloading PC games from GameStop.com in a partnership with Real Networks," Burgess continued. "At the same time, we've been expanding that. Last year we launched a casual storefront to serve consumers that aren't regarded as gamers but play titles other than core games like 'Call of Duty' and 'Halo 3.'"
Going digital
In fact, the company formed a digital ventures group about six months ago to support the growth of digital operations and online retail. GameStop is reviewing possible acquisitions in that area that would move the company more into that arena and complement store locations.
One way the company is tying its strategy together is through increased use of social media. It has been putting up share links on Facebook on its Web site and established a Twitter account, sending out daily tweets to a network that has already reached more than 30,000 people.
"The tweets have late breaking news, various offers, information on price drops and new releases, and the program has been well received," Burgess said, noting that GameStop has a second smaller Twitter account focusing on GameStop.com's daily deal, specific deals found only on GameStop.com.
"That was actually formed in response to customer requests," said Burgess. "Our goal is to be the world's largest digital aggregator, meaning we want to be able to sell PC and console digital products through all of our digital channels and physical storefronts."
In addition, tying the system together through in-store digital kiosks is another part of the plan. Several GameStop stores already have kiosks onsite, and customers can explore products and see screenshots and reviews. That essentially brings the digital GameStop.com online experience right into the store.
"Ultimately, we want GameStop to be the best consumer experience possible and allow our customers to find products they want, connect with other gamers, and do that whether they are in our store, online, or out and about with friends," Burgess said.
Knowledge is power
Pulling that all together means getting more information about customer habits. GameStop is still learning how best to do that online. GameStop.com has various touch store features like an online store locator, in-store pickup, and store availability so customers can see if a title is in stock. By watching those behaviors, the company can tell how many visitors are on the site and using features that will drive them into stores.
"As we learn, we'll use that information to help us develop new programs," said Burgess. "But consumers are obviously shopping online and offline, and we are still figuring out how best to engage them in all areas."
The company does have an active event presence, both in stores and at industry conferences. Midnight openings, tournaments, and title launch celebrations at stores are helping drive traffic to retail locations, and GameStop will often participate in events like the BMO Capital Management Digital Entertainment conference to some extent. Each of these initiatives is part of a wide-ranging approach to make all GameStop marketing and retail channels cross-pollinate for the benefit of the entire organization.
Although GameStop already occupies a large part of the video game space, sitting still is not an option in a rapidly changing medium. Staying on top of trends in gaming requires daily attention to detail because of the speed with which the industry moves. The digital ventures group is charged with keeping an eye on new technologies and developments. The company also can rely on its thousands of employees in this regard, all of whom are gamers and provide feedback on emerging factors in the industry.
"For example, just a few years ago we weren't involved with the digital business," Burgess said. "We decided that we needed to get involved in that thanks to feedback from our associates, as well as our customers."
Partnerships play a role in the growth of the company as well. In regard to digital product sales, GameStop relies on the experience of third parties, such as Real Networks on the front end and CyberSource on the back end, for things like sales expertise or fraud management.
GameStop's 2008-09 Q4 numbers aren't yet available, but Q3 numbers reflected growth of 12% and beat analyst predictions on earnings and revenue. Although same-store sales were down, not surprising given the economy's effect on retailers in general and video games specifically, traffic numbers at GameStop.com continue to increase. That bodes well for a company looking to drive more consumers online at a time when online sales in general are seeing tremendous increases in traffic as consumers look for deals.
"Video game consumers are flocking to good games online, and big titles like 'Mass Effect 2,' 'MAG,' 'Star Trek Online,' and 'BioShock 2' will continue to drive people to our Web sites," said Burgess. "We need to get a bigger and broader audience online by giving them ease of use, products when and how they want them, and providing a best of breed consumer experience so customers can interact with GameStop however they choose."