Gap Launches Limited-Edition Jimi Hendrix T-Shirts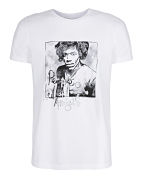 March 4, 2013 – Today Gap announced the brand is joining a yearlong celebration of the life and music of Jimi Hendrix in honor of his 70th birthday with the launch of two limited-edition t-shirt designs. The t-shirts feature art from the iconic musician's new album, "People, Hell and Angels," which introduces previously unreleased studio recordings from 1969, the year Gap was founded in San Francisco.
Available in styles for men and women, the exclusive cotton t-shirts will launch online at Gap.com on March 5th and be available in US stores on March 15th. In addition, the shirts will be offered in select Gap stores in Canada, UK, France, Italy, Japan and China starting in late March.
"From the moment we opened our first store in 1969 selling jeans and records, Gap has always connected with people through music," said Seth Farbman, Gap's Global Chief Marketing Officer. "This partnership is an opportunity to celebrate an influential, American artist whose music still inspires people today."
"We are delighted to be partnering with Gap to celebrate the release of People, Hell and Angels on the 70th anniversary year of the birth of our beloved Jimi. In fashion, as in music, he was adventurous, innovative and colorful. These beautiful shirts, along with Fender's participation, are truly the reflections of his creative music, fashion and style," stated Janie Hendrix, President and CEO of Experience Hendrix LLC.