Gayle Middleton Debuts New Line of Plush Baby Monsters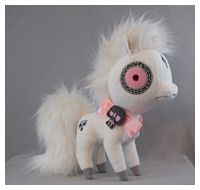 May 12, 2014 – Famed Hasbro toy designer Gayle Middleton has been responsible for designs that transformed Littlest Pet Shop and My Little Pony into billion dollar toy brands for the largest toy company in the world. But few realize that the iconic toy designer harbors a secret dark side. Middleton is gratified that her designs have been so well received in the toy community. But she yearned to share a new—and very different—toy concept with her many fans.
"After years of designing adorable pets for Hasbro, Disney and others, I started doodling these odd, ghostly white vampire babies drinking undead dragon bottled blood in 2006," Middleton says. "Maybe I was suffering from 'Cute Overload' and this was my way of dealing with it. I wanted to create babies that were cute but mischievous, something surprisingly off-center and bizarre. I soon became obsessed. Other breeds of creepy-yet-cute monster babies started appearing on my sketch pad, and after 3 years I had coined a name for them: Vamplets."
Middleton released her first 6 plush vampire babies in 2010 and immediately sold out at the New York International Toy Fair. By 2012 the line had expanded to Werewolf babies, Zombie babies, Cyclops babies, Abominable Snow Babies and a host of their companions from the "Undead Pet Society." Graphic novels from publisher Action Labs were released the following year. Ten years after redesigning the world look for My Little Pony, Middleton recently unveiled the Gloomvanian Ghost Pony.
Middleton's experience is extensive. Before Hasbro decided to re-launch their Littlest Pet Shop line in 2005 they hired Middleton, who had successfully redesigned the world look for their My Little Pony line in 2003. She also worked personally with Gene Roddenberry (Star Trek), Steven Spielberg (ET), and Charles Schulz (Snoopy), creating toys for them. In the first 5 years after Littlest Pet Shop re-launched with Middleton's designs, sales skyrocketed from 60 million to 600 million dollars. Both brands have since capped the billion dollar mark.
Currently Middleton is running a Kickstarter Campaign to fund her latest designs, which include a Baby Undead Dragon and toe-nibbling little fur balls called Bitemares. Fans interested in supporting these baby monsters can visit Kickstarter at http://kck.st/1j78i0w.