TIME-LIFE Books Brand Relaunching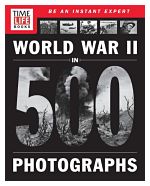 May 13, 2014 – Time Home Entertainment Inc. today announced that it has reintroduced the iconic TIME-LIFE Books brand, reinvented and re-imagined with today's readers in mind. The books have entirely new editorial content and packaging. For the first time ever, TIME-LIFE Books will be sold in retail stores, rather than through direct mail, available as full-color paperbacks wherever books are sold. The first two books, World War II in 500 Photographs and Everything You Need to Know About the Bible, are now available.
TIME-LIFE Books enable readers to become "instant experts," offering engaging content that's easy to digest. The new TIME-LIFE Books focus on topics that fascinate the curious reader. The initial publishing tracks planned explore topics in history, religion, true crime and science. Two more titles are planned for the Fall-Winter season: Mysteries of the Unknown (Fall 2014) and Mysteries of the Criminal Mind (Winter 2015). Moving forward, Time Home Entertainment Inc. plans to publish a minimum of four TIME-LIFE titles a year.
"The TIME-LIFE brand resonates with multiple generations and we wanted to create new titles that future generations could embrace as well," said Stephen Koepp, editorial director, Time Home Entertainment Inc. "With our focus on epic events and absorbing subjects, we're helping TIME-LIFE Books fans visualize and understand great moments in history that have an enduring impact on us."