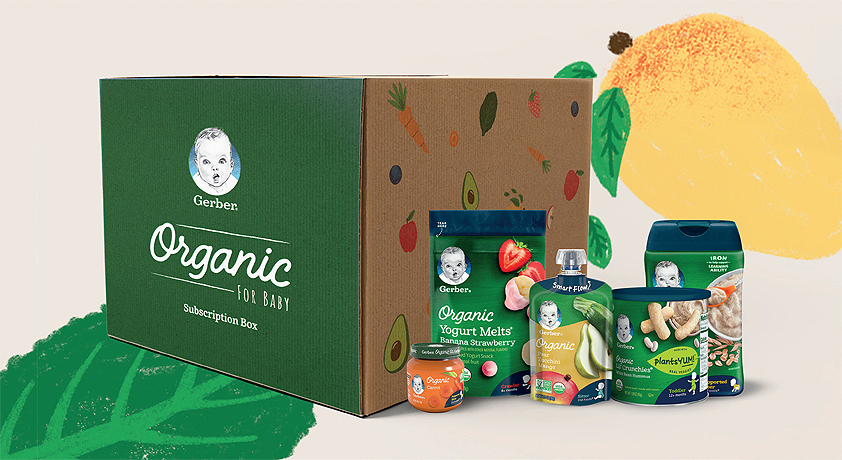 Anything for BabyTM
With a rich heritage in the baby food industry, Gerber Products Company keeps innovation (and baby) at the heart of everything it does, so that it can help parents meet the nutritional needs of babies and toddlers around the world
With a rich heritage in the baby food industry, Gerber Products Company keeps innovation (and baby) at the heart of everything it does, so that it can help parents meet the nutritional needs of babies and toddlers around the world
Founded in 1928 in Fremont, Michigan, Gerber Products Company (Gerber) has established a reputation as a true leader and innovator in early childhood nutrition. Over the 93 years of its evolution, the company has continually grown and expanded, and from its initial offer of five simple products, today Gerber enjoys well over half of the market share in the US, the world's largest baby food market.
What makes Gerber so successful, is that it is founded on a true dedication to do Anything for BabyTM. This is exhibited by its innovation driven products and services that include multiple avenues of support to parents and an extensive range of nutritious food products for their babies, for which the Gerber name is renowned.
Furthermore, while some basic nutritional needs of babies remain the same as in previous generations, Gerber recognizes that nutrition science has made great strides in understanding the impact of early childhood nutrition on long term health and continues to identify the best ways to nourish babies. And Gerber knows that each generation of parents looks for ways to meet these needs. Supporting a healthy eating journey for babies in modern times is constantly evolving, and Gerber addresses this by maintaining a strategy that prioritizes innovative new offerings, and providing the up-to-date products that contemporary parents demand. This is done at the same time as driving nutritional development and making sure that the wide range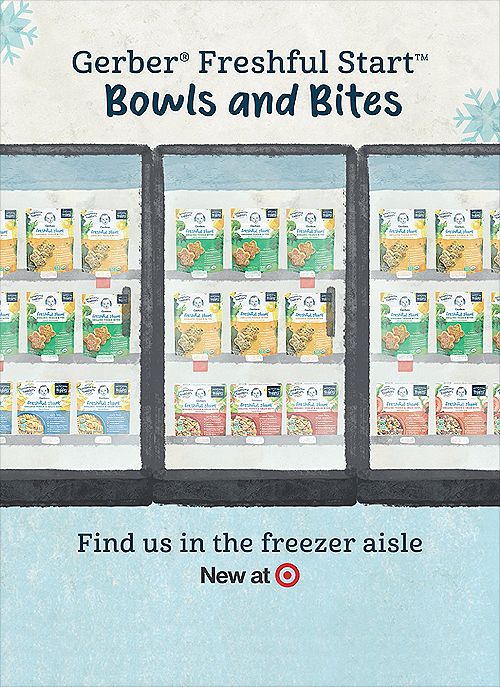 of product offerings are tasty, convenient and accessible.
Subscription boxes
Gerber's constant drive to remain inventive and create original and inspiring new products sets Gerber apart from the rest of the competition and establishes it as a real differentiator in the industry. The Gerber website is a great example of the business' imaginative, yet user-friendly approach and has recently been the focus of a raft of improvements. With the overall ambition to create a 'one-stop-shop', where visitors can discover and shop for products, learn and educate themselves, and access services on demand, www.gerber.com was relaunched in November 2020. This site is designed with busy parents in mind. Through clever programming Gerber retains a personal approach by allowing visitors to customize their experience based on what they need for their baby by getting down to a very detailed level on areas such allergies, flavors, developmental milestones, age range and so forth.
The Direct to Consumer (DTC) eCommerce market provides parents the opportunity to order online and have products conveniently shipped to their homes. An expansion of the DTC is a new Subscription Box service. Designed by Gerber's nutrition experts, each box is developed for a different stage of a baby's life with foods to help progress their developmental skills. Composed of Organic products, each box is delivered monthly, contains organic foods for one to two occasions per day, and includes nutritious cereals, delicious purees, tasty snacks and more. "We always want to find more ways to give consumers expedient options for meeting their baby's nutritional needs and what you get in this box is all of our expertise at your fingertips. We introduced the notion of 'developmental milestone stages' many, many years ago, and thanks to our knowledge in that area, the contents of the box 'grows' as the baby gets older, so when they are ready to try new flavors and textures, the contents of the box change," explained Kai Musielak – Sr Manager Consumer Engagements.
"On top of that, we also include educational material, like our sample menus, hunger and fullness feeding cues tip sheets, and information about the farms where we grow the fruits and vegetables that make up our foods," he added. Gerber also sometimes includes items that are designed to surprise and delight, so in certain months an item such as a milestone blanket or other nice addition will show mom the value that the company has for her and baby.
Parental support
As increasing numbers of parents have been adapting to quarantine and staying at home during the coronavirus pandemic, the Subscription Boxes have proved a popular option, and Allison Creswell, Sr Specialist for E-Commerce Strategy at Gerber, was able to report strong customer retention and loyalty among the subscribers that have been acquired so far. "They do represent our most engaged and brand loyal consumers so we are really excited about continuing to see it grow," Allison revealed, before noting that the boxes will evolve over time, with new and interesting additions. "We are exploring expanding the subscription series and looking at options where we are adding more flavors for baby – like a flavor adventure – which we think will definitely accelerate adoption."
From speaking to Allison and Kai, it is clear that Gerber's improved website has created an ideal platform to which further innovations can be incorporated. The team has ambitious plans for the future. "We recently added Spanish language baby experts, and we already offer access to specialists who focus on lactation and nutrition as well as having a certified sleep coach on staff. We offer the time of these experts completely free to parents – they can have one-on-one appointments or chat with them 24/7. What we are really trying to do is support parents, especially first-time parents, and it's really important to us to be there for them and it is part of our mission to do 'Anything for BabyTM'. We COMare always looking to increase innovation, so we have a lot on the agenda this year," Allison confirmed.
The development and implementation of the Subscription Box service goes some way to capture the essence of the overall innovation strategy that underpins Gerber's approach to New Product Development. By continuously monitoring opportunities and looking for potential gaps in the market, Gerber is often a trend setter and leader in the baby food sector; always keen to find new areas where it can bring its expertise and provide new solutions.
This approach is reflected in another new launch, where in a dynamic move, Gerber has entered the Frozen Foods aisle. This exciting undertaking, called Freshful Start, launched exclusively in a limited number of Target stores five months ago. "The range includes three Organic Veggie & Grain Bowls and two Organic Veggie Bites, and they all have a variety of, healthy ingredients in them. For example, all the products include a selection of veggies because we want the family to be comfortable with vegetables and understand their importance in a healthy diet, and that is something that we really value in terms of development," explained Catherine Cortes – Baby Food Brand Manager.
Like the Subscription boxes, the Freshful Start range is also Organic, and has some good early indicators of success. Catherine is confident that it will continue to mature as consumers become more aware that Gerber foods for toddlers are available in the frozen aisle. "We are watching it grow with every new promotion and marketing execution," she agreed. As one would expect with Gerber and its perpetual forward momentum, the range won't remain static and new, flavorful additions are also expected.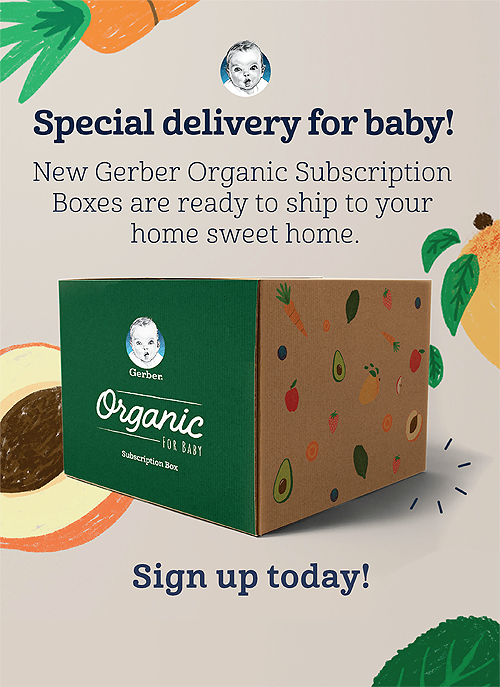 Nutritional needs
Not only a valuable new addition to the already impressive range of products developed by Gerber (in total it makes more than 190 products, with its brands stocked in approximately 80 different countries) the Freshful Start range can also be used as an illustration of how the company combines its dedication to innovation referenced above, with a relentless focus on infant nutrition. To maintain the right balance between these two pivotal areas requires a dedicated pool of employees and the support of a strong and experienced management team. In this respect, Gerber is able to draw on its own years of experience, as well as the substantial resources of Nestlé, of which it is a subsidiary, and which is an organization with over a century of experience in early childhood nutrition in its own right.
In fact, being part of Nestlé gives Gerber access to an amazing repository of data in the form of The Nestlé Feeding Infants and Toddlers Study (FITS). The largest dietary study of children from birth to four years in the US, the data gleaned from FITS helps to shape policy, educate parents and design the portfolio of innovative products that Gerber introduces to the market each year. Nestlé has now undertaken this study three times, over the course of several years, and it has revealed that it can be a challenge for young children to get all the nutrients and healthy foods they need.
Responding to the statistics revealed by FITS, Gerber's product innovation team turned their attention to a new area for the business, and following an intensive period of research and development, they created a range of gummy multi-vitamin products. These are designed to fill the nutritional gaps of toddlers and children, but have been carefully devised not to provide excesses of certain nutrients that they don't need. The new range – Grow Mighty and Lil' Brainies – extend Gerber's purpose of 'Anything for BabyTM' to growing children. As Gao Dan, Business Executive, Infant Formula & Supplements pointed out, it can be hard for parents to consistently meet the nutritional recommendations for toddlers, especially at the age when they have developed their own personal food preferences. "Grow Mighty is a complete kid's multivitamin, aimed at the toddler of two years and above, and Lil' Brainies provides key nutrients to help support children's brain development and memory," she said, giving some more details about the range. Gao also noted that Gerber will be looking to add more advances in the future to this area, maintaining its stance on helping parents and ensuring the nutritional needs of children are met in supportive and convenient ways.
Every bite counts
At the end of 2020 another valuable reference point on infant and toddler feeding was published with the 2020-2025 Dietary Guidelines for Americans. These include recommendations for pregnant women, lactating women, infants and toddlers for the first time ever. Highlighting a message Gerber was already keen to emphasize – that 'every bite counts' under two years of age – the guidelines promote how important it is that parents and caregivers choose nutritious foods for their babies and toddlers right from the start.
Dynamic innovation
The fact this messaging is coming directly from the US Government makes it a valuable resource for everyone concerned with early childhood nutrition – including Gerber. "We definitely have a wide variety of products that can help parents follow the new guidelines, for example there is a recommendation that most infants need a vitamin D supplement, and we offer a vitamin D supplement drop in our portfolio," revealed Susan Pac – Sr Manager of Regulatory Affairs. "There are also other recommendations about nutrient dense foods such as fruits, vegetables and whole grains, and again, we offer many products that provide these nutritious foods in developmentally appropriate forms for young children.
"Another of the new recommendations from the dietary guidelines is about the appropriateness of introducing common food allergens earlier in the diet than previously advised, such as peanuts," she continued. "We have some exciting product releases in our snacks line that support this recommendation, one of which is Gerber Baby Pops. We have a peanut variety of Baby Pops, and they make it easy for parents to include some peanut in a suitable form for their child."
Having spoken to the hard working and enthusiastic team members that make it all happen at Gerber and having been given a fascinating insight into its operations, it is clear that innovation is the foundation upon which all its new offerings are built. While handling the challenges of differentiating its products from the competition, providing modern solutions for parents, and maintaining a constant focus on nutritional development, the team at Gerber never stands still or relies on past successes. Demonstrating a remarkable dedication to being as ground-breaking and pioneering as possible, the team at Gerber has always maintained the highest standards for everything it grows and everything that feeds the children of America and the rest of the world.
It has been a privilege for Retail Merchandiser to highlight the operations and approach of a respected and renowned company such as Gerber. The magazine looks forward to being able to report on the next amazing product releases and dynamic innovations that are sure to be revealed in the years ahead. v