GNC Partners with Vendors to Support the National Breast Cancer Foundation During National Breast Cancer Awareness Month in October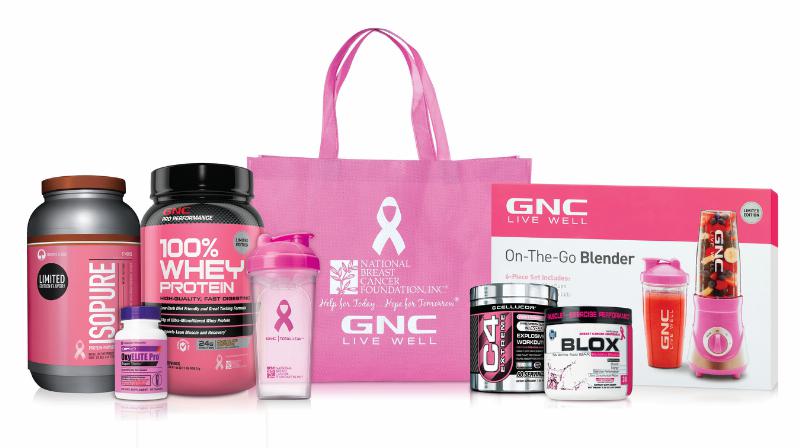 Sept. 23, 2013 – With the goal of bringing greater education and focus to a disease that impacts millions of Americans every day, GNC Holdings, Inc., the nation's largest specialty retailer of health and wellness products, today noted that it is partnering with 57 of its third party vendors in support of the National Breast Cancer Foundation (NBCF) during National Breast Cancer Awareness Month in October.
In its first campaign for the cause, GNC and its vendor partners have contributed over $300,000 in support of the efforts for NBCF. GNC's customers will be invited to join in support of this important cause starting October 1 by making $1, $5 and $10 donations at registers at any of the company's U.S. retail corporate and franchise locations as well as online at GNC.com.
"Breast cancer impacts millions of women and their families every day," said Joe Fortunato, President and CEO, GNC. "In this new partnership – our first direct involvement in the fight against breast cancer – we are pleased to support the National Breast Cancer Foundation, one of the leading breast cancer organizations in the world. At the same time, we are thrilled with the support that so many of our fine product manufacturers are showing in this vital effort."
"GNC has always been on the cutting-edge of helping people improve the quality of their lives," says Janelle Hail, NBCF Founder & CEO. "Through their partnership with NBCF, they will also be helping us save lives. Early detection of breast cancer is critical to survival, but so many women in America don't have access to the resources they need to detect it early. GNC's generous donation will help us provide free mammograms and patient navigation services for underserved woman in all 50 states."
GNC and participating vendors have created eight exclusive limited edition "pink" versions of customer-favorite products to raise awareness of this cause during National Breast Cancer Awareness Month. They can be purchased at participating GNC stores and GNC.com in October.