GreenWorks Brings Innovation To Battery-Powered Outdoor Equipment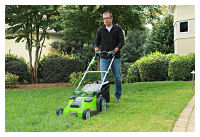 March 13, 2013 – In less than a week, spring will officially begin and there isn't a better time to make sure you are ready for the season. GreenWorks launched a revolutionary line of outdoor equipment featuring gas-comparable power and performance – all via battery power. Each product in the line runs on the powerful new G-MAX 40V lithium ion battery.
The full 2013 Spring line includes: 40V Lithium Ion 20″ Twin Force Dual Blade mower, 19″ 3-in-1 mower, 16″ 2-in-1 lawn mower, 12″ string trimmer, 24″ hedge trimmer, 8″ pole saw, 20″ pole hedge trimmer, air compressor, 150MPH blower, 10″ cultivator and a 12″ chain saw.
"We are excited to bring our customers the most innovative, versatile battery-powered outdoor products on the market," said Gray Abercrombie, Marketing Director from GreenWorks. "Customers are looking for a better way to take care of their lawns, and we are thrilled to provide products that are easy to start, fun to use, and provide the power and run-times to get the job done. And all of our products produce zero carbon emissions in the yard. "
The GreenWorks line offers an array of benefits beyond the powerful battery. The entire line of GreenWorks G-MAX equipment is packed with innovation. The Twin Force Dual Blade Mower is equipped with Smart Cut technology, which regulates the output of the battery by sensing the height of the grass to determine the power needed, thus allowing the battery to conserve on shorter grass. Additional features built into this revolutionary mower:
Up to 70 minutes run time on a single charge of the two lithium-ion batteries
Up to 50 percent better mulching with twin blade technology
Up to 53 pounds lighter than competitor push mowers
Because they are battery-powered, GreenWorks G-MAX products are noticeably quieter than comparable gas-powered products. In addition, each product is easier to maneuver because it's powered by lightweight batteries versus heavy gasoline engines. For example, the Twin Force Mower is 53 pounds lighter than comparable push mowers.
Complete your yard work quickly with the GreenWorks G-MAX 40 volt lithium ion products because they all use the same battery, making it easy to switch batteries with the simple snap-on and -off design on all 10 products. Consumers also may save hundreds of dollars in fuel costs each year by switching from gas to G-MAX. A G-MAX 40V battery costs less than .02 cents to fully re-charge.
The entire GreenWorks product family includes: 20V, 24V and 36V battery powered outdoor power equipment, a full corded line and reel mowers. GreenWorks products may be purchased at various retailers and online. For more information, visit GreenWorksTools.com and follow GreenWorks on Facebook.