H2O Plus and Walt Disney Parks and Resorts Extend and Expand Alliance Relationship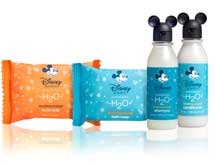 May 22, 2013 – As the primary in-room amenities provider for Walt Disney World Resort, Disneyland Resort, Disney Cruise Line and Disney Vacation Club properties, H2O Plus has announced the expansion of a multi-year strategic alliance agreement that will extend the H2O Plus presence internationally. Through the new deal, H2O Plus products will now also be available at Hong Kong Disneyland Resort, Disneyland Resort Paris and Aulani, a Disney Resort & Spa in Ko Olina, Hawaii. In addition, H2O Plus will sponsor five runDisney races at Walt Disney World and Disneyland Resorts.
"We've enjoyed a wonderful, long-standing relationship with Disney and we are pleased with the opportunity to further collaborate with one of the most beloved companies in the world" said H2O Plus CEO, Rick Ruffolo. "This expanded agreement will enable us to provide H2O Plus to an even broader Disney audience who can now enjoy the best in marine-based skincare products."
H2O Plus will offer a variety of hair and skin care products at various locations during runDisney race weekends including the health & fitness expos, race retreats and VIP lounges. In addition to the in-room amenities and event sponsorship, H20 Plus has extended its offerings through robust retail programs and additional co-branded products lines available at select resort retail locations. Featured items include the H2O Plus premium Sea Salt and Sea Marine SPA lines, signature blue Bath Aquatics collection, and bath and body care products in Blushing Orange and Grapefruit Bergamot scents. H2O Plus products will also be available through an in-room resort catalog and online at Disneystore.com.
"Since 2006, Disney has teamed with H2O Plus to provide our guests with high-quality, in-room amenities such as shampoos, conditioners and body lotions," said Michael Cohen, vice president, Disney Corporate Alliances. "We're excited to expand upon this relationship and look forward to introducing H2O Plus products to Disney guests around the globe."