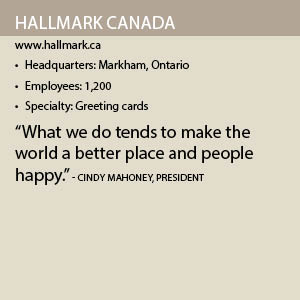 "We think the timeless nature of what we do, in terms of providing products that help people connect with each other, is a need that was true 100 years ago and will be a need 100 years from now," she adds.
Tapping Innovation
For Hallmark Canada, innovation is about more than just creating a new product. It is about the company changing its way of thinking in everything it does – from product creation to business models and problem-solving.
"The world is evolving and we must embrace the changes that will continue to affect our business and industry," Mahoney says. For example, Hallmark Canada has taken a look at how people are using technology such as virtual reality, and has created products with that technology – including a four-card collection of greeting cards for Father's Day – to help them emotionally connect with one another.
"The cards include an exclusive pop-up VR viewer, which has a patent pending, and an URL to an exhilarating 360-degree adventure," Mahoney explains. "The collection continued into summer with four designs for birthday celebrations and two brand-new adventures."
Hallmark Canada also launched a new line this summer called Wonderfolds. "These cards are mailed flat, but they can transform into a 3-D work of art that is meant to be displayed and admired from all angles," Mahoney says, adding that the company will also debut itty bittys® cards this holiday season.
"These kid-friendly cards come with one of our extremely popular itty bittys® plush characters vacuum-packed in the card," she says. "It expands to its regular size when removed from the pack. We expect these cards to be a big hit among the younger generation."
Mahoney adds that today's millennial greeting card user, who relies on greeting cards to enhance her relationships, is challenging the stereotype that only older people buy cards. "An emotional connection is a need among every adult generation, and tangible expressions of that connection through greeting cards transcend generational stereotypes," she says, adding that Hallmark Canada has invested in the millennial consumer, who is a different kind of card shopper.
"They tend to travel in more diverse circles than previous generations," Mahoney explains. "Their communities of friends are also introducing them to more holidays and occasions, which is an opportunity of growth for our category."
By creating cards for many holidays such as Diwali, Hanukkah, Three Kings Day and a growing number of new card-giving occasions such as Friendsgiving and bridesmaid proposals, Hallmark Canada is staying relevant in the lives of the younger consumer, according to Mahoney. "Millennials are also demanding inclusiveness in our products, so Hallmark Canada celebrates all couples in love for weddings, anniversaries and Valentine's Day," she says. "Today's modern family is also recognized with cards for same-sex couples, divorced or single parents and blended families."
Seeing Growth
Hallmark Canada employs approximately 1,200 people across its portfolio of businesses. "We've had great success at repositioning the Hallmark greeting card line through all of our exisiting retailers," Mahoney says. "The last two years have generated double-digit growth for our retailers in Canada. We've been doing that through the introduction of innovation, our signature premium card line – Hallmark Signature – as well as an elevated and fresh product in our core product line."
That growth has created a lot of opportunity for Hallmark Canada to expand its employee-base. "We're in the midst of adding a great number of employess to be able to keep up with the growth that we are seeing at retail," Mahoney says.
She adds that the company is always looking for the best talent to hire for its category management, business development, and retail service and analytics departments. "We're looking for people who have an affinity for what we do," she says. "We want people who understand the meaning of connection, and value a personal and an emotional connection in their own lives. The common link across all disciplines within the company is the desire to help make the world a better place, to make a genuine difference in every life, every day."
It ultimately circles back to Hallmark Canada's goal to help people emotionally connect with one another and build strong relationships. "We've had employees tell us that although they've worked for other companies and had great experiences, the Hallmark experience is special because it resonates with them on a deep and personal level," Mahoney notes.
"What we do tends to make the world a better place and people happy," she adds. "Our chairman says a greeting card has never been given in anger; it's always given from a positive point of view. That makes what we do a big honor and privilege to be involved in people's lives that way."
In addition, Hallmark Canada's retail partners have also played a critical role in its success. "Our success is very aligned with the retailer's success," Mahoney notes. "We cannot be successful if the retailer is not. Whether that success is with an individual Hallmark Gold Crown Store or with a partner like Wal-Mart, we know that our product solutions have to deliver on the consumer need that people are seeking out when they come to the shelf."
Hallmark Canada's sales teams work closely with its retail partners to study trends in how people shop and develop solutions around these changes. "This includes outposts that allow people to find the greeting card they need while shopping for other gifts or products," Mahoney explains. "We are innovating around merchandising solutions to make it easier for people to find the cards they need quickly because we know convenience is key when shoppers enter a store."
Working alongside its retail partners, many of which Hallmark Canada has longstanding relationships with, Mahoney notes the company must remain innovative to be as relevant today as it was the day prior. "The world of retail is very fast moving and dynamic, and the challenges are very real," she says. "We feel honored to help our retailers find success through the sales of greeting cards to their shoppers."
Looking Ahead
Mahoney has served in her current role for nearly two years, and has been with Hallmark for 17 years. She says that she is most proud of the work the company does. "I'm proud that we understand the needs of people and are able to translate that into products that help them connect with each other," Mahoney says. "I'm really awestruck by the capability we have to assimilate a lot of different information, input an emotional need and deliver a high-impact emotionally relevant card."
She adds that Hallmark Canada's ability to make the consumer feel like a card was "written just for them" is a unique capability that only it can provide. "People, including my family and friends, can rely on finding a greeting card to make an emotional connection," Mahoney says. "I'm proud to represent the company because of the quality of what we do, and the capability we have is unmatched and really important to people."
Looking ahead, Mahoney notes it is important that Hallmark Canada's products are available wherever the consumer shops. "We know there is increasing pressure in the time demand of the consumer," she says. "We want to ensure that we have the right product available at the right time wherever she is.
"Where she likes to shop changes over time, but we're very specific about the product we put on any given shelf," Mahoney continues. "We know what type of products shoppers are looking for and believe that our insights are going to deliver stronger sales results, but also a more meaningful consumer experience because she's able to find the right product to fit exactly what she wanted to say."