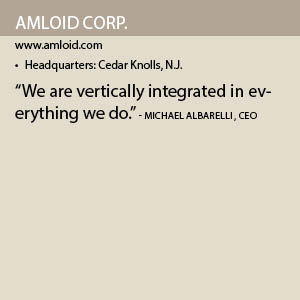 Founded in 1916 by Albarelli's great-grandfather, Amloid considers itself the "Pioneers of Play" because of its history of innovative production methods. This includes being the first company to make an injected-molded sand pail in 1931 and, in 1967, becoming the first company ever to sell beach toys in netted sets.
Today, the company has two main toy brands targeting preschool-age children: Amloid Classic, which manufactures beach toys, play sets, junior sports and ride-on toys; and Kids@Work, a line of junior construction toys. Based in Cedar Knolls, N.J., the company operates a manufacturing facility in Monterrey, Mexico.
Top-Tier Partners
Amloid in recent years has focused on designing and producing innovative products as well as invested heavily in manufacturing processes. "Continuing our vertical investment in our infrastructure while creating new and innovative products with top-tier brands has been the conduit for us to grow," Albarelli says.
In 2015, the company's Kids@Work brand joined forces with Crayola to launch the Crayola Building Blocks line. The line features Crayola's distinctive colors and comes with crayons and decals that allow children to color and customize their blocks. "We feel there's a toy for everyone in our assortment," he adds. "The values of Crayola – such as creativity, curiosity and color – trend well within a construction toy pattern."
Last July, Amloid launched a co-branded line of Tonka Mighty Builders building block products. The company is licensing the Tonka brand name from Hasbro. The line includes building blocks in a wearable plastic hardhat, as well as blocks that be built on and stored in toy construction vehicles.
"We offer our retailers big brands with tremendous heritage at superior values and margins," Albarelli says. "These are brands that really resonate at the preschool age, and our product development is authentic to these brands."
Both lines have been met with positive consumer and retailer response. Though Tonka Mighty Builders toys have been on the market for only six months, they've "exceeded all expectations," he adds. "We have high hopes in terms of it resonating in the retail market, and consumers are reacting well. "We are investing with both brands Kids@Work's Crayola and Kids@ Work's Tonka prpperties," Alberelli says. "We're looking forward in 2018 to expanding not only our placement in retail but the assortment itself."
The Crayola Building Blocks line, which is now entering its third year, is reaching consumers and retailers worldwide. "[Crayola] is truly a global brand that has been a conduit for us to sell more products internationally," Albarelli says. "In 2018, we will be selling to 39 international markets from the United Kingdom to Japan, and from the Philippines to Estonia. These are not opportunities we had in the past, so we are very excited to grow. We're proud that we have relationships with both of these brands."
Looking Ahead
The co-branded Crayola and Tonka lines have helped propel Amloid to become the No. 3 top-selling company in the junior construction category within the past five years. "I think we've identified the right space within the category," Albarelli says.
Though the junior construction category has been greatly successful for Amloid, the company remains dedicated to its tried-and-true product lines. "We know the only reason we have our co-branded lines and our success in the junior construction category is because of what we've done in our other categories," he adds.
The company is investing in new mold equipment to support its seasonal products such as beach toys and role play sets. "That business is growing as well," Albarelli says. "These products gave us an existing customer base that helped us when we entered the junior construction category and had conversations with retail buyers. As we became more important to major retailers because of our junior construction products, that helped all our product lines and opened new accounts for us."
Amloid has grown significantly each year since 2009. Albarelli projects that 2018 will be the biggest year in the company's history. "Next year is shaping up to be a more than double-digit growth year for us," he says.
The company's goals for 2018 include developing new products for the Crayola and Tonka co-branded lines as well as reaching out to new licensees. Amloid is particularly interested in co-branded entertainment brands.
"We have a lot of pride, and believe the best is still in front of us," Albarelli says. "We're excited for the next 100 years."