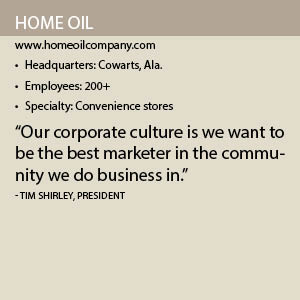 "Our corporate culture is we want to be the best marketer in the community we do business in," he adds.
Community Stores
Those values have been with Home Oil since its beginning. Shirley's father and mother, Tom and Sarah Jo Shirley, acquired Home Oil, a Phillips 66 distributorship in Ashford, Ala., in 1966. The family's first gas station sold about 20,000 gallons of fuel each month, mostly to agriculture customers, but the company soon expanded with the acquisition of a Union 76 franchise in 1970. By the end of the decade, Home Oil began to realize the potential of adding a retail operation to its gas stations, leading the company to build its first Hobo Pantry convenience store in 1979 next to its location in Ashford. "It was such an instant success that the retail brainchild was born at that time," Shirley says.
In the 39 years since, Hobo Pantry has grown to sell 3.5 million gallons of gasoline a month at 27 stores in Alabama, Georgia and Florida. Those locations are a combination of ground-up construction and acquisitions of existing facilities that undergo either cosmetic changes or total remodels to bring them up to Home Oil's standards.
Each retail location accompanies a gas station and the size varies from a small one-person kiosk to up to 4,000-square-foot stores with co-branded food courts. The type of store is chosen based on an extensive market analysis to determine the most appropriate footprint and amenities for the area. "We pretty much tailor the store for each community we do business in," Shirley says. "We do not want to become a cookie-cutter facility – one shoe fits all. We don't think that's a good way to do business."
Company-wide, Home Oil's revenue split is 60 percent from retail and 40 percent wholesale, but it varies depending on the market and store type. That fairly equal mix gives Home Oil some diversity and enables it to better withstand market fluctuations, such as rising oil prices. "It provides some protection for us when the economy gets tight," Shirley says. "It gives us a good blend."
Getting on the Right Path
Shirley began working for the company in 1966 and his role expanded as Home Oil grew. By the time his parents started the retirement process in 1994, he was running much of the business. That changed in 2005 when Shirley became sick and had to step away from the company for a year-and-a-half while he got healthy. By the time he returned he was ready to take over, but his siblings – who weren't active in the business – would not agree at the time to relinquish their shares.
The obstacles frustrated Shirley. With no path forward to control ownership and put a plan in place for growth, he stepped away from the company. It took more than seven years of stagnation, but his siblings eventually decided to retire and sold their shares to Shirley. "It happened because we were strong enough to make it happen," he says. "It's allowed the company to survive and thrive. The company would have never made it had it not happened."
Shirley returned to Home Oil in 2015 and got his sons, Dustin and Ryan, involved in the company, learning every angle of the business from the ground up. Dustin Shirley is now the sales manager for Home Oil's wholesale operation while Ryan Shirley is managing 10 stores.
Since returning to the family business, Shirley has made employee training a priority. He wants to arm workers with the tools and knowledge they need to have intelligent discussions with customers and provide the kind of service that creates repeat business. Home Oil will enhance its employee development efforts in 2018 with the addition of an online training program – a first for the company.
Online training has become common in the retail and convenience store market, but Shirley explains he had been delaying its implementation at Home Oil as a way to demonstrate the company's commitment to human interaction. "I'm an old-fashioned guy so I've really held us back from growing in that area because if you're not careful it takes the place of customer service," Shirley states.
With ownership now consolidated and a renewed focus on training and service in place, Home Oil is primed to reach its goal of selling 80 to 100 million gallons of fuel annually. "We'll never be satisfied but we have conviction in the process," Shirley says.